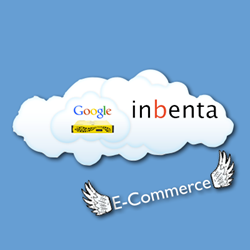 Sunnyvale, CA (PRWEB) May 03, 2014
Recently Inbenta announced its $2 million series A investment through Amerigo. Now, Inbenta sets sites on helping the e-commerce market move to cloud based operations. For Inbenta, seeing companies struggle to make the move because of barriers like costs, implementation time, and not enough control over cloud based systems provides the perfect opportunity to offer products that integrate Semantic Search and A.I. Technology that can eliminate these challenges.
With companies migrating more towards Cloud based applications to run IT departments, the trend is effecting both lean start-ups and seasoned brands looking to get in on all that companies like Google can offer. Companies unsure if cloud computing is the right choice are face with competitors who are already making the migration that will inevitably take over in the years to come. To help with the migration, Inbenta is moving towards offering more alternatives to enhance tools like Google's applications.
These alternatives will be postioned to help with the adoption of Google's suite that has over 5 million organizations using Google Apps, and 50 million users connected. The goal for this transiton is to enhance and increase the way businesses operate and interact with customers. These new tools will focus on helping companies stay lean, self operated, with low cost systems that offer stronger insights into behavior matched with controllable automated self-service solution to enhance customer experience.
The work ahead for Inbenta will focus on the 9.7% of computing workloads run in the public cloud which is expected to change to 30.2% in just five years, with a 44% annual growth. This annual growth Inbenta expects to capitolize on is seeing products like Google Apps used by 1000+ users, with more and more Google App admins transitioning entire IT infrastructures to the Cloud.
With the cloud based enterprise email market holding at 50% its pretty obvious where companies will base their production Source. For Inbenta in the decade to come, they expect to see a huge growth in cloud based suites for businesses large and small who will need solutions that offer deeper levels of knowledge about the behaviors of customers. With control being a top priority to businesses making this disruptive change, Inbenta's new alternatives are expected to allieviate the demands created from not And with the enough "back-office" applications.
"Granular control in the cloud is one of the biggest pains organizations worry over, and we want to provide and solutions to that", said Jordi Torras, CEO of Inbenta. These solutions are tools that will make transitions easier with more functionality and stronger control over "back office" features. Business looking for this control, will be able to own thier Media instead of outsourcing to third parties while augmenting products like Google's search Appliance for a more intelligent search experience with a clear understanding of the sale cycle of a customer.
Beyond the need of control, companies want mobility. The idea that you can bring-your-own-data to any device is attractive. Thats why there is an upward trend in adoption of mobile devices in businesses. For Inbenta, a mobile future for companies IT infrastructure and work force will means offering A.I. based mobile integrations that operate on any device.
Inbenta's plans to enhance the customer experience through intellgient interaction from A.I. based products was triggered by the markets prior mobile migration. Everyone from developers building responsive frameworks like Bootstrap and Foundation 5, as well as devices like Cromebooks and iPads are picking up speed as operational tools within companies. With people wanting fast, mobile, and low maintenance, Inbenta recognizes the need for flexible data in user experience and device experience.
Inbenta move to focus on mobile first, control, decreased costs, and new forms of interactive experiences is opening the door to more opportunities for businesses to make the most out of the Google Apps platform. As long as Google encourage companies to make the transition companies like Inbenta will offer software that integrates with Google because it cuts off Microsoft's market Source.
The value from owning outreach, better control over content and customer to site interaction is how businesses will prosper in the years to come. Costs are lower because companies are not paying hundreds of people to operate a system that will soon operate the majority of the customer interaction. Inbenta's new sophistcated search tools adjuncted to Google's search engine will yield even greater control over how content is scene, shared and found.
One of the newest ways to enhance Google's platform is through Inbenta's Semantic OneBox for GSA. It allows the integration of FAQ searches in Natural Language within the popular Google Search Appliance. With GSA integration, people don't have to spend precious decision time searching. What they get comes from the top two search engines working synergistically, allowing business the ability to provide the exact content sought after.
Inbenta's new GSA can take Google's website search engine one step further by ensuring results yield more visibility from the Natural Language technology. There will also be more options in operating outreach. Inbeta's new Longtail SEO feature, offeres the ability to control and create landing pages from the most popular searches. Leveraging in search engines from both Inbenta and Google it maximizes relevant results.
In the next few weeks Inbenta plans to release tools to easily move the data from one company's platform to another. Along with a 30 day free trial, Inbenta plans to offer a Free BYOD (Bring Your Own Data) plan for companies who use Oracle RightNow by indexing websites in just moments, eliminating the pain of time drain that companies faced before. For more information, contact info(at)inbenta(dot)com.