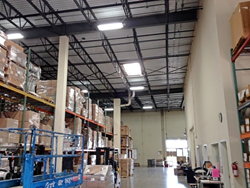 Cherry Logistics was able to complete the project without disrupting our 24/6 operations, providing us with optimal lighting and a predictable ROI.
CHICAGO, Ill. (PRWEB) May 02, 2014
Cherry Logistics, a performance leader in comprehensive facilities maintenance, today announced the completion of an interior lighting upgrade project for ADMO Inc, an Elgin, Illinois-based manufacturer of injection-molded plastic parts. The company projects cost savings with the new lighting, as well as reduced pollution impact equivalent to the planting of 17 acres of trees.
ADMO's management had been receiving employee suggestions for improving lighting. At the request of owner Matt Krieps, Cherry Logistics performed a thorough assessment of the existing system and proposed removal of 50 existing 400w metal halide high bay fixtures and replacement with a layout of 60 four-lamp T5 high-output fluorescent fixtures—50 of which would be equipped with energy-saving motion sensor technology.
"Our plant runs 24/6, so it was critical for the Cherry Logistics team to complete the project without disrupting our operations," said Krieps. "We were impressed that they were able to do just that, designing and installing a new system which provides optimal lighting, reduced environmental impact and a predictable ROI."
About Cherry Logistics
Cherry Logistics, Inc., headquartered in North Aurora, IL, was founded in 2003 as a snow and ice management service. Since that time the company has become a premier provider of consolidated facilities maintenance services, including landscaping, lighting, emergency power, commercial construction and complete parking lot maintenance, displaying proficiency in each category. Cherry Logistics specializes in offering facilities services for owners of multiple-location real estate, and is currently operating within 42 states.
Cherry Logistics prides itself on the fact its staff is comprised entirely of experts with years of experience within their respective fields. This diverse team includes managers and executives with experience in retail management, facilities management, customer service, commercial real estate, construction, transportation, information technology, and meteorology. For more information about the company, visit http://www.cherrylogistics.com.