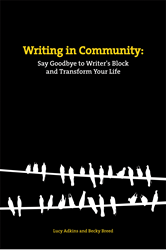 Nothing has given us greater joy than being able to put this book into the creative lives of other writers.
Omaha, Nebraska (PRWEB) May 01, 2014
WriteLife Publishing, an independent publishing company based in Omaha, Nebraska announces their title, Writing in Community: Say Goodbye to Writer's Block and Transform Your Life by Lincoln, Nebraska-based authors Lucy Adkins and Becky Breed, has won a 2014 Silver IPPY Award in the category of books on Writing and Publishing.
The Independent Publisher Book Awards, the world's largest international and regional book awards competition, annually honors the year's best books published by independent presses in over 70 categories. Approximately 2,000 publishers participate in the Awards each year and over 5,000 entries are received.
Upon winning their Silver IPPY Award, Lucy Adkins and Becky Breed shared, "We wrote Writing in Community to be a companion in the writing life; and since its publication, nothing has given us greater joy than being able to put this book into the creative lives of other writers, and become that companion."
Writing in Community has garnered praise from several renowned authors, including Mary Pipher, bestselling author of Reviving Ophelia and Writing to Change the World, "These writers have great authority and experience on this topic. They write ideas that are fresh and new with profound potential for empowering readers as writers, connecting them with honest, authentic peers."
Becky Adkins is a graduate of the University of Nebraska, a veteran educator, poet, and essayist. She has an Ed.D. in Education, and in addition to helping develop a series of creativity workshops for women on the prairie, has taught at the university level, and served as principal at an alternative high school.
Lucy Adkins received her degree in secondary education with an emphasis in English from Auburn University in Alabama. Her poetry has been published in various journals and magazines which include Rhino, Northeast, South Dakota Review, Concho River Review, and the anthologies Woven on the Wind, Times of Sorrow/Times of Grace, Crazy Woman Creek, and the Poets Against the War anthology. Her chapbook, One Life Shining: Addie Finch, Farmwife, was published in 2007 by Pudding House Press.
About WriteLife, LLC
WriteLife, LLC is an independent publisher of trade fiction and nonfiction based in Omaha, Nebraska.
Learn more at http://www.writelife.com/.
Buy WriteLife Books Online - http://writelife.pinnaclecart.com/index.php?p=home.
WriteLife on Twitter - https://twitter.com/WriteLifeLLC
WriteLife on Facebook - https://www.facebook.com/WriteLife?ref=hl