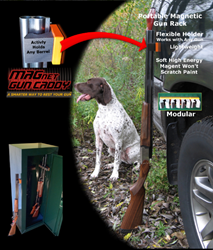 "in effect the IP generally protects a portable, compact (pocket-sized), single firearm holding device mountable to virtually any surface by means of a pressure release mechanism."
Minneapolis, MN (PRWEB) May 06, 2014
SpecTech, Inc., a small product development company incorporated in 1993 in MN has been awarded a third patent on its compact portable firearm holding device. Continuation patent #8,695,935 was issued on April 15, 2014 effectively broadening the protection of previously issued patent #8,403,278 in March of 2013 complimented by D701,584 issued in March of 2014.
The two primary problems the invention solves are involved with safety and security for temporary staging, and longer term storage of firearms. The problem is frequently seen in the field where millions of hunters and shooting enthusiasts find themselves looking for a temporary place to set their gun down. One example is seen as upland game hunters often return to their vehicles to rest themselves or their dogs, drop off harvested game, or resupply. Another would be when gun enthusiasts are taking out or returning their firearms to safe storage - they need a place to temporarily set it while unlocking, removing (or returning) the gun wanted, and then re-locking the storage door .
The sporting goods model is marketed as the MAGnet Gun Caddy™. Made In USA. SpecTech Inc. is currently adding distributors and retail stores dealing in sporting goods to carry the product which was originally released in 2009 - now refined and efficiently packed in a 12-pack shipper display. The display and shipping is free to re-sellers who order online through the wholesale portal. For more information on becoming a distributor you can visit: http://www.magnetguncaddy.com/Dealer-Pages.html
While it has always been safe practice to case the gun when not in use, the case is typically locked in the vehicle and needs to be accessed first. So the gun is set down temporarily to free the hands, retrieve the keys, open the door, and finally access the gun case. It's in those frequent instances that accidents can occur. Guns are often leaned up against a vehicle and end up falling, scratching the vehicle's paint. And possibly damaging the gun or scope - which can lead to even worse accidents. Guns set on the ground can be compromised with sand or dirt, stepped on, or even run over. Most hunters are familiar with these stories or have unfortunately experienced this problem themselves - often costing hundreds or thousands of dollars in damage.
Portable gun racks have been around for many years. However, until this invention, the racks have been large and bulky - designed as a rest for several firearms. The size made them impractical for portability and storage. None of the previous designs actively held the gun – it is just leaned into that type of rack and therefore is susceptible to being bumped. Even a slight shift in the vehicle from someone getting in or out - or shutting a door can move it enough to cause the gun to fall from open-face rack designs.
This new invention actively holds the gun barrel, yet it can be removed quickly and easily with just one hand. The universal design works with virtually any long barrel (single or double barrel) gun. It is small and light enough that one can place it in a vest pocket when not in use, or it can be left attached to the vehicle - even as hunters drive from field to field. The overall size is roughly a 2" cube and weighs about the same as a single shotshell. The modular design provides the flexibility to line up several. However experience shows it is preferable to keep safe space between hunters and clay target shooters to manage their gear. This new design is the only one to provide this flexibility. The manufacturer points out to always unload gun before using its product.
The same is true for storage. It provides a place to temporarily set the gun when unlocking or locking the storage unit. A conveniently placed unit on the outside of the gun locker or safe becomes a perfect place to stage the gun.
The small footprint design makes outfitting the interior of lockers more flexible and efficient too. It can be placed at any height (which is often overlooked with fixed racks), and with any distance between required for each firearm. This helps increase storage capacity and lowers the overall cost to secure each gun.
An important note regarding the continuation patent is that it includes much broader IP protection. In essence, it relates to any compact single firearm holding device mountable to virtually any surface by means of a "pressure release mechanism". In other words, it's not limited to a magnet and metal surface for mounting. Military/Tactical prototypes currently in development are equipped to mount to multiple types of surfaces by incorporating multiple means of attachment (in addition to magnets) incorporated with-in the base. This opens numerous applications for staging during weapons deployment, storage, transportation, and individual Soldier use in the field, or even for non-metal interior sporting goods safes.
The IP also includes claims for an integral electronic signaling device. Which could be as simple as a built-in L.E.D. lighting (for use inside a gun-safe, or outside use during dark hours). It could also be more complicated like a Laser, or RFID. The RFID could be used to track each holder and the firearm that should be in it.
SpecTech, Inc. is seeking manufacturing and distribution partners for the further development of its military/tactical prototypes, as well as to expand the sporting goods designs. Qualified interested parties are invited to contact SpecTech, Inc.