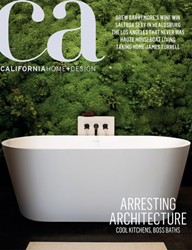 San Francisco, CA (PRWEB) May 01, 2014
McEvoy Group LLC has announced the sale of California Home + Design to Ali Grosslight. Grosslight, former commercial director of the California shelter magazine, has bought the publication backed by a small pool of investors out of Southern California.
She will continue as publisher for CHD's print and online operations. Mary Polizzotti, former managing editor of 7x7 and CHD has been named digital director.
Ali Grosslight was hired in 2006 as the associate publisher for San Francisco lifestyle magazine 7x7, and was promoted to publisher in 2012. During that time she also was the commercial director for CHD, which at the time was a sister publication.
The award-winning website, californiahomedesign.com, resumes this month with an expanded digital presence. The print magazine will continue publication with the Fall 2014 issue.
CHD's digital footprint boasts 2.0 million impressions per month, monthly page views of 530,000 and 74,000 unique online visitors monthly, and 28,000 newsletter subscribers according to its 2013 media kit. CHD's social media presence includes 481,000 Facebook fans, and 19,600 Twitter followers. The multimedia brand has an audience of over 600,000 with and statewide circulation that includes Napa, San Francisco, Silicon Valley, Santa Barbara, Los Angeles and Palm Springs.
California Home+Design is a multi-platform media brand that covers home, architecture, products, art and lifestyle stories throughout the state of California. It was founded in the mid-1990's by Sloane Citron and Elsie Floriani under the name California Home & Gardens. In 2004 McEvoy Media, then Hartle Media, acquired a majority interest in the publication and changed the name to California Home+Design and californiahomedesign.com.
Grosslight is thrilled with the acquisition and is busy readying for the California Home+Design relaunch, with digital director, Mary Polizzotti commenting alongside Grosslight, "CaliforniaHomeDesign.com experienced significant growth in the past year and we have a strong stable of talented writers on board to contribute. We're looking forward to expanding our digital footprint even further."
When asked about the vision behind the brand Grosslight responded enthusiastically:
"Since its inception in the mid-1990's, California Home+Design has been one of the most beloved shelter magazines in California and the go-to publication for the state of design in our region. One of the strengths of CHD as it has evolved into the multimedia platform it is today is that it has always had its finger on the pulse of what's happening in design now, and I am pleased to be able to build on this tradition. I invite you to join the conversation as we create a dialogue of design together that is inspiring and innovative. The conversation created about design is as impactful as the design itself, and the ways they interact are one of the key components of creating an industry filled with quality, creativity, ease and enjoyment. As I think about design, two words come to mind: comfort and luxury. Coco Chanel brings these two elements together best in one seamless statement: 'Luxury must be comfortable, otherwise it is not luxury.' Tell me, what does design mean to you? Join the conversation here: info(at)chdmedia.com."
McEvoy Group owns Chronicle Books, Princeton Architectural Press, becker&mayer!, and Galison/Mudpuppy. Nion McEvoy will join the advisory board of the new company and adds, "We are pleased that CH+D will begin operating again under Ali's ownership. I believe that her passion and experience will re-energize the business and be met with great enthusiasm by the design community, both advertisers and readers alike."