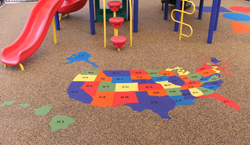 We take pride in our eco-friendly surfacing solutions and the safety we bring to playgrounds and sports fields around the USA
Palm Beach Gardens, FL (PRWEB) May 07, 2014
2014 continues to be an exciting year as FallZone Safety Surfacing LLC launches their new 2014 product line on their freshly revamped website. FallZone Safety Surfacing, a nationwide supplier and installer of eco-friendly safety surfacing, is now installing FallZone Poured-in-Place, FallZone Bonded Rubber, and FallZone Synthetic Grass across the country.
"We are extremely excited to rollout our new products for 2014," states Michael Grillo, owner of FallZone Safety Surfacing. "We take pride in our eco-friendly surfacing solutions and the safety we bring to playgrounds and sports fields around the USA."
New for 2014:

FallZone Poured-in-Place: Poured-in-Place is a playground safety surface constructed in two layers. The base layer, made to absorb shock, consists of 100% recycled styrene butadiene rubber (SBR) mixed with a low odor polyurethane binder. The top layer, designed to withstand wear, is composed of recycled ethylene propylene diene monomer (EPDM) and a low odor polyurethane binder. FallZone Poured-in-Place is fully customizable, can be installed indoors or outdoors, and meets all playground and safety surface regulation requirements.
FallZone Bonded Rubber: Bonded Rubber is composed of 100% recycled shredded rubber mulch blended with a polyurethane adhesive, which can be poured in any outdoor play space, path, or landscape, and can be poured at different depths to meet all fall height requirements. This low-cost alternative to traditional surfacing solutions provides excellent drainage, is resistant to wear and weathering, and has a seamless, natural appearance.
FallZone Synthetic Grass: Synthetic Grass provides a soft, fun safety surface complete with a safety impact system under the synthetic grass to help absorb falls. This new alternative to traditional synthetic grass solutions requires no rubber infill, is completely porous to allow for quick draining, and can be installed on playgrounds and other play surfaces to provide protection in the case of a fall, as well as the tactile sensation of playing on grass.
"Our goal at FallZone Safety Surfacing is to prevent injuries, and this year's safety surfacing solutions will help us achieve this goal," says Grillo. "We now have aesthetically pleasing, eco-friendly safety surfaces for every situation, and we're happy to offer them at affordable prices to our customers."
About FallZone Safety Surfacing LLC:
FallZone Safety Surfacing is a premier nationwide turn-key supplier and installer of eco-friendly playground safety surfacing, sports surfacing and recreational surfacing needs. With 25 years of playground safety surfacing experience, their mission is to provide the highest quality safety surfacing products, service and installation in the market at an affordable investment while promoting the importance of safety on playgrounds all across the world.
With many popular options like the FallZone Poured-in-Place and FallZone Bonded Rubber, or even their great line of Fallzone Synthetic Grass options, FallZone Safety Surfacing can easily customized their surfacing to meet any safety, design or aesthetic requirement. FallZone Safety Surfacing meets and exceeds all CPSC, IPEMA, ASTM and ADA guidelines for playground surfacing.
For more information about FallZone Safety Surfacing and their products, please visit http://www.fallzonesafetysurfacing.com.