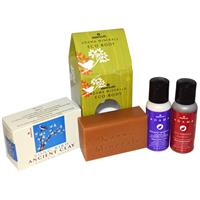 San Francisco, CA (PRWEB) May 03, 2014
Zion Health will celebrate Mother's Day with the release of an Eco Body Gift Set packaged for moms on the go containing Adama Minerals hair care products, and naturally formulated Songbird soap. Zion Health is the leading manufacturer of clay body care products utilizing a unique type of clay called Calcium Montmorillonite, which is naturally resourced and harvested in a sustainable manner.
Mom, mum, ma, ama, madre, mama...no matter how you say it, your mother is quite possibly one of the most important people in your life. That's probably why, in 1908, Mother's Day founder Anna Jarvis began a campaign to make Mother's Day a national holiday. Since then, the second Sunday in May has been dedicated to the woman that gave you birth.
This year, natural health product pioneer Zion Health is joining in on the celebration by introducing its Eco Body Set made with natural ingredients, these beauty products are formulated for those looking for a alternative to traditional chemical-laden soaps, shampoos and conditioners.
Zion Products are vegan and do not contain aluminum or parabens. Zion's Eco Body travel gift may be purchased online on Iherb.com and adamaminerals.com.