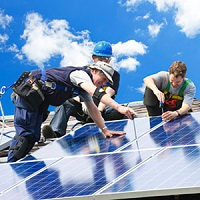 Boston, MA and San Francisco, CA (PRWEB) May 02, 2014
This informative, 3-week online training course was developed by Admirals Bank to provide solar installers and other industry professionals with a comprehensive understanding of how to use residential solar financing to increase sales and home solar installations.
Interested in attending the course? Click here to enroll today.
If you are a solar installer looking for more information regarding the solar financing products and services offered by Admirals Bank, please call (800) 715-8472 during the following hours to speak with a dedicated Loan Advisor:
Monday-Friday: 9AM – 1 AM (EST)
Saturday: 9AM – 9PM (EST)
Sunday: 11AM – 7PM (EST)
About Admirals Bank
Admirals Bank is a federally-chartered financial institution headquartered in Boston, MA with a Regional Banking Center in Providence, RI, and a Renewable Energy Lending Center in San Francisco, CA. Since 2012, Admirals Bank has focused its home improvement lending efforts in the residential solar and renewable energy industry, opening Admirals Alternatives, the Renewable Energy Lending division of Admirals Bank. Admirals Bank also remains a leading national provider of the Title I Home Improvement Loan for a variety of other home improvements. Admirals Bank also offers customers additional borrowing solutions such as Residential Mortgages. Additionally, Admirals Bank is an active acquirer of commercial real estate loans in the secondary market. Admirals introduced Bespoke Banking to the financial industry, which is individually tailored, highly customized, relationship banking, and also provides customers with classic banking options such as checking and savings accounts, which can be conveniently opened and maintained online or via a mobile device. Admirals Bank is an Equal Housing Lender and Member FDIC.