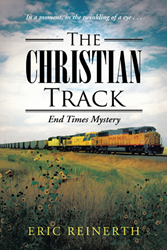 'God proves His relevance when prophecy is fulfilled, and it doesn't need to be a mystery,' Reinerth said. 'Readers will see that God is in control and where history is heading.'
(PRWEB) May 06, 2014
The 2008 American Religious Identification Survey shows most Americans claim faith but confess little commitment to church.
Finding too few people are preparing for Jesus' promised return, former Federal Government official Eric Reinerth explains Bible prophecy using a bottom-line, goal-oriented approach. "The Christian Track" will bring Christians back to the root of their faith.
"As one considers differing opinions, you can find disagreement among experts on nearly every Biblical concept," Reinerth said. "The chaos that has resulted causes many Christians to avoid the topic."
This easy-to-understand guide is an answer to overly complex nonfiction books on Bible prophecy. Reinerth asserts history has been written in advance and God makes His message clear.
Validated by quotes taken directly from the Bible, "The Christian Track" is the first of three prophecy books released. Each installment is brief, direct and well supported, reflecting the author's technical writing style.
"God proves His relevance when prophecy is fulfilled, and it doesn't need to be a mystery," Reinerth said. "Readers will see that God is in control and where history is heading."
"The Christian Track: End Times Mystery" by Eric Reinerth
Hardcover, $33.95
Paperback, $17.95
e-Book, $3.99
ISBN: 978-1-49081-941-9
Available at amazon.com, barnesandnoble.com and bookstore.westbowpress.com.
About the author
Eric Reinerth graduated from Penn State University with a Bachelor of Science in accounting. His first book titled "The Missing Testimony" was published in 2001. Reinerth is now retired, and remains involved in his local church in Charleston, W.Va.