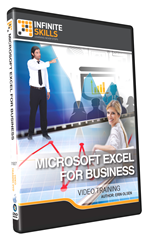 Learn Microsoft Excel for Business at your own speed.
(PRWEB) May 02, 2014
Software training firm Infinite Skills Inc. this week introduced its "Microsoft Excel for Business Tutorial," an intermediate course designed to teach business owners and employees how to apply Excel's powerful spreadsheet functionality for a wide range of business solutions.
Excel is a spreadsheet application with powerful features for the management, calculation, and display of business data.
With Infinite Skills' Microsoft Excel For Business Tutorial, users with basic computing experience can begin learning how to apply Excel features in a business environment. Basic Excel experience is recommended but not required.
Microsoft Excel For Business Video Tutorial - Streaming
Course author and Microsoft Certified Instructor Erin Olsen, began working with Excel and SharePoint while running her own small business. She holds a master's degree in education with emphasis on instructional design and technology and has been a computer trainer since 1994, starting with Windows 3.1. Her training style is based on real-world experience as an entrepreneur, orienting her instruction style toward the practical needs of everyday users in a business environment.
The course provides project-based lessons that teach Excel functionality by demonstrating how to use particular features to perform various business functions.
Olsen starts by showing how to manage contacts and marketing with Excel, demonstrating how to manage data related to customers, vendors, and employees; as well as how to create calendars and analyze demographics.
The course then explores money management using Excel, as Olsen explains how to build budgets, plan and track loans, keep account registers, and supervise sales.
Olsen then closes with a chapter on using Excel to gauge the status of a business, exploring cash flow statements, resolving business ratios, and finalizing financial statements.
"Instead of training in-depth with specific Excel features," Olsen explains, "this is a project-based course with topics focused on specific business tasks and deliverables."
"The ultimate outcome is that you will develop the ability to utilize Excel features to market, monitor, manage, analyze, and communicate all aspects of your business in an organized, meaningful and professional way."
Free demo videos and a full list of course contents can be found on the Microsoft Excel For Business training page of the Infinite Skills website:
http://www.infiniteskills.com/training/microsoft-excel-for-business.html
Infinite Skills offers its Microsoft Excel For Business either as a DVD or a direct download from the company website at a retail price of $49.95. All titles and formats are compatible with Mac and Windows operating systems. Shipping is available around the globe. Additionally, Infinite Skills tutorials are supported by project files which correspond to examples in the videos, allowing users to work alongside experienced instructors right on their computer or iPad.
About Infinite Skills Inc.
A leader in the field of software training, Infinite Skills designs its courses on a task-oriented model, teaching complex skills by providing hands-on examples and guiding users as they carry out essential functions. Infinite Skills offers a wide range of software titles available as DVDs, digital downloads, and in iPad editions. Infinite Skills now offers a subscription service, providing access to all its training content for a monthly fee, keeping with company's aim of delivering professional training to customers anywhere they want to learn.