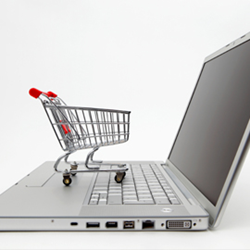 To invest in internet or traditional storefront....that is the question.
Toronto, Ontario, Canada (PRWEB) May 01, 2014
To invest in internet or traditional storefront, that is the question. Survey says: Both! It seems like businesses and consumers are always being told that in the end, they must choose one or the other. This can be troubling for businesses that are unsure of what to invest in - is it better to invest in a website that can take credit and debit cards online or is it better to invest in new POS terminals for the storefront? Recent studies say "both!"
A new study conducted by CBC News states that for Canadians, online sales make up five to eight percent of total retail sales. That's especially encouraging information for businesses that are on the fence about expanding from local storefronts to the uncharted territory of the internet. After all, five to eight percent of total retail sales means that this year, online sales in Canada will add up to $25 billion dollars. However, another report by the Financial Post indicates that it is unwise to write off the traditional retail environment completely. Recently calculated sales for February show a 0.5% increase in retail sales - owing in large to pharmacies, department stores and other brick-and-mortar locations.
Reaching both local customers at pre-existing storefronts and the online market can be a struggle, which is why so many businesses are investigating companies, like MONEXgroup, that offer both in-store POS terminals and eCommerce solutions.
"There is nobody more committed to the bridging the divide between the rapidly advancing technology and the consumer," commented Parry Rosenberg, Vice President of Sales and Marketing at MONEXgroup. "MONEXgroup offers the best technology, but also the best service for addressing that technology."
MONEXgroup offers eCommerce solutions with an easily integrated buy button that works with existing shopping carts and allows seamless software upgrades. MONEXgroup, also offers in-store POS solutions, the iWL250 for example, processes credit and debit cards quickly and efficiently while offering Wireless Long Range GPRS Technology - making it portable and powerful. With industry-leading service, MONEXgroup is a brilliant choice for handling credit and debit card transactions, whether they occur online or through an in-store POS device.
MONEXgroup is the #1 rated payment processing company in Canada offering the lowest rates in the industry. Services offered include: debit card and credit card point-of-sale (POS) terminals, mobile, integrated and e-commerce online payment products. MONEXgroup serves over 20,000 merchant accounts across Canada in all market segments including: restaurants, business-to-business, professional services, leisure and hospitality.