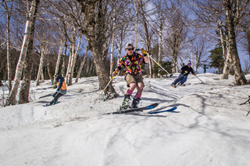 Having this many resorts and this much terrain open is a huge testament to the quality of snow and rich ski culture that you can only find in Vermont.
Montpelier, VT (PRWEB) May 02, 2014
Vermont is the only East coast state to have three resorts open for May skiing and riding. Jay Peak Resort, Killington Resort, and Sugarbush Resort will be spinning lifts and shredding soft bumps and groomer track on over 50 trails this first weekend in May.
"Having this many resorts and this much terrain open is a huge testament to the quality of snow and rich ski culture that you can only find in Vermont," said Sarah Wojcik, Ski Vermont's Director of Public Affairs. "We can thank Mother Nature for a cold, snowy winter and our 80% snowmaking capacity for the long-lasting base we're still skiing on in May."
Saturday, May 3, 2014 marks the 192nd day in operation for Killington Resort. That adds up to over six months of skiing and riding, and made it possible for skiers and riders to ski eight out of 12 months of the year; and there is no end in near sight.
"Killington is approaching day 200 of this season, and we are excited for yet another May on snow," said Killington Communications Manager Michael Joseph. "We received over four inches of fresh snow last week and remain optimistic about our spring skiing outlook; so much so that we have not yet set a closing date."
Jay Peak's bragging rights don't stop at being open in May. They have the most terrain open with 38 trails and an average of 15-30" of base snowpack.
"No one up here can remember ever having close to 50% of our trails open in May," said Jay Peak's JJ Toland. "Even the duct tape-wrapped diehards are ready to see some grass. We're all ready for a nap."
But don't think Vermont resorts are starting to hibernate in spring. Sugarbush will be opening their golf course along with re-opening 18 trails on Saturday to celebrate the best of both worlds.
"To be able to stay open this late into the season with 18 trails is amazing," said Sugarbush Communications Coordinator John Bleh. "Not only that, but our golf course is opening this weekend, so we'll have 18 trails to ski and 18 holes to golf!"
Skiers and riders can extend their season, and even their days in May with discounted late season lift tickets and later hours. And don't forget après drinks in the sun! Find more information on conditions and deals at skivermont.com.
Late Season Lift Ticket Pricing and Weekend Hours of Operation:

Jay Peak - $49 for adults, $39 for juniors; 8:30 a.m. – 4 p.m.
Killington – $54 for adults, $41 for youth, $45 for seniors; 9 a.m. – 5 p.m.
Sugarbush – $50 for adults which includes golf, free for kids under 6; 10 a.m. – 5 p.m.
Ski Vermont (Vermont Ski Areas Association) is a proud ambassador of the thriving winter tourism industry in Vermont, where the legislature has designated skiing and snowboarding as the official state sports. Vermont is not only the #1 ski state in the east and third in the US, but also reigns supreme in snowmaking quality and coverage, variety of terrain and historical impact on the sports of skiing and snowboarding - making it one of the most significant ski and ride destinations in the world. Ski Vermont's mission is to help create a legislative, economic and social environment in which the state's ski areas can grow and prosper. It serves its 19 Alpine and 30 Nordic member resorts in three major areas: Governmental Affairs, Marketing and Public Affairs.