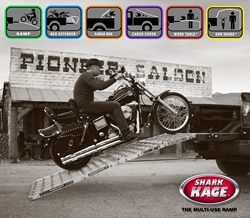 'Every rider knows the pains of loading their vehicles into a truck bed, one day I was pinned under my bike after my ramp collapsed,' said inventor Cort Smith 'the experience of having a heavy motorcycle coming down on top of me determined my direction.'
Las Vegas, NV (PRWEB) May 02, 2014
Shark Kage, a Las Vegas based company set out to fund the creation of the world's first 6-in-1 multi-use truck ramp by utilizing the Kickstarter platform. After launching their campaign on the crowd-funding platform, the project successfully reached its $42,000 goal after only 25 days.
Extensive media coverage and 78 backers helped drive the project to successful funding. The company will be celebrating its success at the AMA Supercross event this Saturday in Las Vegas at the Legends and Heroes booth, where select contributors will have an opportunity to meet and interact with the team.
The Shark Kage is a sturdy yet light aluminum folding truck loading ramp that utilizes a unique design which allows it to fold and lock into its six different positions to serve a multitude of functions; including a truck ramp, cargo box, cargo cover, bed extender, worktable, and sunshade. With a loading capacity of up to 1,200 lbs, it is a revolutionary cost-effective easy-to-use solution for loading all of your vehicles and gear onto the back of your pick-up truck.
"Shark Kage is like a transformer! Shark Kage hits every need for hauling gear, and then some. Besides being the best ramp out there, it's a much needed, useful product, again and again," says Chuck Sun, AMA National Motocross legend and AMA Hall of Fame inductee.
With the success rate of projects being fully funded on Kickstarter being a mere 43%, Shark Kage overcame numerous hurdles and has astounded the industry with their accomplishment. Shark Kage achieved well over its $42,000 goal through the support of 78 backers from all over the country. The average pledge was $600 which entitled backers to be rewarded an exclusive early bird Shark Kage Sports Ramp.
Shark Kage has already won multiple awards from the SEMA show in 2013, and will now begin hitting dealers, trade shows, and events across the country. Shark Kage has also been touring with DeRisi Racing throughout the GNCC Series, and has been featured with the Legends and Heroes team throughout the AMA Supercross event.
Join Shark Kage in its celebration this Saturday, May 3rd at the AMA Supercross event at the Sam Boyd Stadium, Las Vegas.