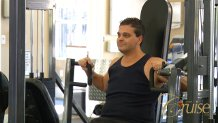 Newport Beach, CA. (PRWEB) May 01, 2014
Los Angeles gynecomastia surgeon, Dr. Joseph T. Cruise, recently witnessed how powerful male breast reduction surgery can be for men living with enlarged male breasts. A recent patient of his had been living with gynecomastia (http://www.lagynecomastia.org) for decades before having the financial ability to pursue surgery as a remedy.
"Although I perform hundreds of gynecomastia surgeries each year, I never lose sight of just how impactful the procedure can be for each patient suffering with this condition," tells Dr. Cruise.
To learn more about gynecomastia, please visit:
Brandon, a 38 year old male patient form Orange County, CA., explained to Dr. Joseph Cruise the negative impact enlarged male breasts had on his quality of life over the past two decades. Around the age of fourteen he started to realize his enlarged male breasts were not normal and was being teased by his younger female relatives for having boobs. As a result, he began to withdraw from embarrassment and shame. Brandon became more reserved and quite and would never take his shirt off around his peers. He told Dr. Cruise his quality of life deteriorated dramatically.
As an adult Brandon researched gynecomastia treatment options, but found the cost was prohibitive then. After moving to Orange County, Brandon became financially able to pursue surgery and met with Los Angeles gynecomastia surgeon, Dr. Joseph T. Cruise. Brandon was an ideal candidate for male breast reduction, and soon after his initial meeting, he had surgery to correct his enlarged breasts. Brandon and his partner of thirteen years sat down with Dr. Cruise after his recovery and explained the degree of signifigance the surgery had on his quality of life. Brandon says he is now a much happier outgoing person with a renewed sense of confidence. He feels more motivated to work out, participate in social functions, and will even take his shirt off in public now. His girlfriend says this is the best choice he could have ever made; an investment in himself.
Cruise Plastic Surgery, with offices in Los Angeles and Newport Beach, California, is one of the top plastic surgery practices in the Southern California region. The director, Dr. Joseph T. Cruise, is a fully trained, board-certified plastic surgeon specializing in gynecomastia surgery. His dedication and focus is evident in the comprehensive educationally based web site he manages and the concierge-like customer service his patients receive from the entire office. Experience and predictably good results have earned him the distinction of being one of the best gynecomastia surgeons in Los Angeles and Orange County.