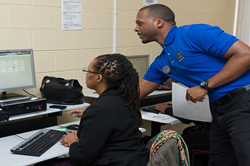 Apploi's work in expanding job opportunities and promoting economic mobility has already had an important impact.
(PRWEB) May 06, 2014
EveryoneOn and Apploi are delighted to announce today a groundbreaking partnership to increase access to jobs opportunities to tens of millions of Americans across the country – focused specifically on the 47 million U.S. residents without computers or internet access at home. The two will be launching a series of initiatives in the coming months.
EveryoneOn is a national nonprofit working to eliminate the digital divide by making low-cost Internet service, affordable computers, and free digital literacy courses accessible to all unconnected U.S. residents. Through partnerships with leading Internet service providers, EveryoneOn is able to offer Internet service for as low as $10 a month in 49 states and the District of Columbia.
Apploi is a New York City-based technology company whose unique jobs and hiring platform and ecosystem enables all jobseekers, including those without internet or computers to access, find, and apply to jobs across the United States. The platform utilizes mobile technology, including video and audio questions, to make the hiring process more instantaneous, effective, and personality-focused. Through Apploi, jobseekers who previously never could apply for jobs, or who never made it past the first round, are getting jobs – and excelling in them. Apploi's kiosks can be found in job centers, community centers, shopping malls, colleges, and at member companies.
As part of the partnership, access to EveryoneOn's education, health, and training opportunities will be accessible through Apploi's network of iPad kiosks (including in job centers, colleges, and community centers) across the country.
"We are delighted to be partnering with Apploi," said Zach Leverenz, CEO of EveryoneOn, "Apploi's work in expanding job opportunities and promoting economic mobility has already had an important impact. It is also teaching companies that expanding opportunities not only has a positive social impact, but improves their performance too."
"The vision of EveryoneOn and their commitment to expanding Internet access and opportunities to millions of Americans is critical to our country's future and will benefit everyone," said Adam Lewis, CEO of Apploi. "Their mission is one that everyone should support and we're honored to be partnering with them."
For Apploi press inquiries, please contact press(at)apploi(dot)com or call (212) 273-9694. Contact sheila(at)everyoneon(dot)org or call (571) 275-9025 for EveryoneOn press inquiries.
For more information about our programs, whether as a company, jobseeker, or community, please visit ApploiCorp.com. To learn more about EveryoneOn, visit EveryoneOn.org.