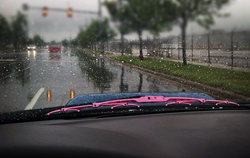 Treat Mom to an auto upgrade by having her car detailed and changing her wiper blades to AutoTex Pink.
PINE BROOK, NJ (PRWEB) May 05, 2014
If you're stumped on what to get Mom this year for Mother's Day and the thought of flowers and brunch induces a yawn, then it's time to start thinking outside of the box. AutoTex Pink has pulled together a few new ideas to make mom's day extraordinary.
For the Chief Housekeeper
Give her the day (or week) off by hiring a house cleaning service to take care of business. This is a particularly nice gift as many moms work outside the home as well as in, technically working two jobs. As an added bonus, do the laundry and ironing for the week to really knock her (clean) socks off.
For the Chauffeur
Treat mom to an auto upgrade by having her car detailed. As chief chauffeur, she spends plenty of time shuffling everyone to and from, so why not spruce up her ride? Make sure she is driving a safe vehicle by having her car tuned up, getting the oil changed, topping off her gas tank and changing her wiper blades. A pair of AutoTex Pink wiper blades in black with a pink ribbon or all pink look great, keep mom safe in inclement weather and a portion of each purchase goes to National Breast Cancer Foundation for sales made in the US and the Breast Cancer Society of Canada for sales made in Canada. She will love her clean, safe car and be proud to support the fight against breast cancer.
For the New Mom
New baby in the family? Give mom the R&R she desperately needs and deserves by arranging a spa day for her. There's nothing better to relax and pamper a new mom than a massage to relax, facial to refresh and a mani/pedi to make her feel like the gorgeous woman she is. Scheduling mom down time is sure to garner thanks and appreciation.
For the Adventurer
Sneak a peek at mom's bucket list and make it happen! Whether it's sky diving, bungee jumping, a trip to the Amazon or getting a tattoo (!), everyone has lifelong dreams and wild adventures they want to live out, moms included. So indulge her by fulfilling one of the items on her bucket list and make her dream come true.
For more information on AutoTex Pink Wiper Blades, please visit: http://www.cequentconsumerproducts.com/Products/AQUA-CLEAR-Quality-Wiper-Blades_Pink
Keep up with the latest from AutoTex Pink on Facebook and Twitter for contests and special offers.
XXX
ABOUT AUTOTEX PINK: AutoTex Pink is a brand of WEXCO Industries. WEXCO Industries, Inc. is among the nation's leading global suppliers of windshield wipers and wiper blade components, manufacturing OEM wiper systems within the heavy duty market and servicing both the heavy duty and automotive aftermarkets. WEXCO, a Certified WBNEC company, and ISO9001:2008 certified, provides quality products, services and solutions to some of the world's largest and highly regarded companies.
AutoTex PINK was founded by WEXCO Industries' President, Paula Lombard. Paula wanted to create a product and a brand that was made by and for women. That is why with each sale of AutoTex PINK products, a donation will be made to the National Breast Cancer Foundation (US sales) or the Breast Cancer Society of Canada (CA sales). Through these partnerships, AutoTex PINK hopes to support those affected by breast cancer by helping to increase awareness and contribute to the fight to "Wipe Out Breast Cancer!"
ABOUT CEQUENT CONSUMER PRODUCTS: Cequent Consumer Products, Inc. is the industry's leading designer, manufacturer and marketer of innovative consumer goods and automotive aftermarket products. For more than 85 years, Cequent Consumer Products has produced some of the most dependable products in the market today including superior-quality towing and hitch systems, trailer components and accessories, wiring, lighting and brake systems, cargo securing, cargo carrying, rack systems, as well as household and industrial brooms and brushes. Our established brands are sold through leading automotive and hardware retailers nationwide. Our brands are leaders in the industry and include: Reese Towpower, Reese Carry Power, Reese PowerSports, Highland, Aqua-Clear, Laitner, Rola, Fulton and Bulldog. Cequent Consumer Products is part of the Cequent Americas business unit of TriMas Corporation headquartered in Bloomfield Hills, Michigan. Visit http://www.cequentconsumerproducts.com/
About National Breast Cancer Foundation, Inc. ®: National Breast Cancer Foundation, Inc. ® is a nonprofit charitable foundation headquartered in Frisco, Texas, just north of Dallas. The Foundation exists to save lives by providing access to free and low-cost mammograms for those with limited resources, increased awareness through continuing education programs and online community support programs. For more information, visit http://www.nbcf.org.
About The Breast Cancer Society of Canada: The Breast Cancer Society of Canada is a registered, national, not-for-profit, charitable organization dedicated to funding Canadian breast cancer research into the detection, prevention, treatment and to ultimately find a cure for the disease that women fear most. For more information, visit http://www.BCSC.ca.