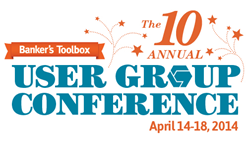 Other conferences scare you with all emerging trends and threats, but don't give you any action steps. However, at the Banker's Toolbox User Group Conference we talk about how to meet those challenges with the software you actually use."
Austin, Texas (PRWEB) May 06, 2014
Last month, Banker's Toolbox hosted its 10th annual nationwide User Group Conference. It was another record-breaking attendance year for the conference, which was held at the Four Seasons Hotel in downtown Austin, Texas. This conference brings together BSA/AML and fraud personnel from across the country for an educational and enjoyable two and a half day event.
This year's keynote speaker was Tom Fleming, former Assistant Director of the Office of Compliance at the Financial Crimes Enforcement Network (FinCEN). His session kicked off the conference by sharing BSA/AML lessons he learned during his 46 years in the financial industry.
This year's conference featured an impressive list of guest speakers. Brian Stoeckert, CAMS, CFE, Chief Strategy Officer at CoinComply, discussed the emergence of virtual currency and how financial institutions can deal with this new technology. Chuck Lewis, CRCM, the Vice President of the Compliance Services Division at the Missouri Bankers Association, spoke on how to best prepare for a BSA audit. Meryl Lutsky, CAMS, the Chief of the Money Laundering Unit at the New York State Attorney General's Office, shared real-life examples of how SARs have helped her unit catch criminals. There was also a law enforcement panel that featured multiple officers speaking on different ways law enforcement and financial institutions can work together to apprehend criminals in the community.
"What truly makes this conference different from others is the opportunity to not only get world-class education, but to also attend sessions tailored to your software," says Director of Consulting & Education at Banker's Toolbox, Maleka Ali. "Other conferences scare you with all emerging trends and threats, but don't give you any action steps. However, at the Banker's Toolbox User Group Conference, we talk about how to meet those challenges with the software you actually use."
Attendees have already marked their calendars for next year's conference on April 22-24, 2015. For more information, please visit http://www.BankersToolbox.com/BUG.
About Banker's Toolbox, Inc.
Austin, TX-based Banker's Toolbox, Inc. helps community financial institutions manage risk and streamline compliance examinations. The company's product suite consists of proven solutions for money laundering detection and reporting, risk management through fraud and kite prevention, secure wire processing automation, and commercial real estate loan portfolio risk assessment. The Banker's Toolbox team is a unique combination of seasoned bankers, former regulators, and information technology consultants who specialize in designing, developing, and implementing risk management solutions while providing unparalleled customer service. For more information, visit the company's website at http://www.bankerstoolbox.com.