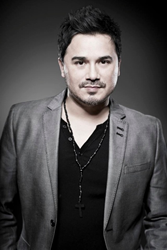 Atlanta, GA. (PRWEB) May 01, 2014
The AMTC community today announced talent auditions at 3 p.m. and 7 p.m. at the Birmingham Jefferson Convention Complex on Friday, May 9, 2014. AMTC auditions are free of charge. Professionals and amateurs, ages 4 and up are invited and welcome to attend.
Since 1982, Actors, Models and Talent for Christ has been a launching pad for hundreds of performers like Nicole Smolen, actress in the upcoming feature film, "8 Days," a film about a true story of human trafficking with all proceeds going to the cause. Across the globe, AMTC participants are making a difference in film, fashion, music and theatre.
This Birmingham event will be hosted by singer, John "Jontez" Montes. He served as the Director of the NFL Player's Gospel Choir, who has opened up for Tim McGraw at the new Dallas Cowboys Stadium. During the 2013-14 season, Montes appeared on NBC's "Sing Off" with the a cappella group, "Ten." Montes speaks on the challenges in entertainment, "The Bible tells us to go from glory to glory. You've got to know the purpose of it." Montes said, "Be thankful for whatever you are going through."
AMTC is a non-profit Christian ministry, searching the country for talented performers. By participating in the Birmingham auditions, performers might be given the opportunity to join the ministry of AMTC and follow The Bridge Training Program to discover their potential place in the industry, honing their skills, look, and knowledge.
The international SHINE Conference in Orlando is the culmination of the program: an exciting time of fellowship, performance and networking with managers, casting directors, agents and record industry scouts. AMTC calls back actors, models, singers and dancers who want to be lights in the entertainment industry, the most influential mission field of the 21st century.
AMTC auditions are being held in the Medical Forum Building in Room G-I on the third floor of the Birmingham Jefferson Convention Complex, 2100 Richard Arrington Jr. Blvd. N.
Birmingham, AL 35203.
Actors, Models and Talent for Christ exists as a bridge between performers and the entertainment industry. To register for auditions, visit http://www.AMTCaudition.com or call 1-800-STAR-420.