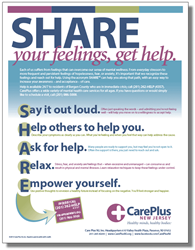 As more people learn to recognize the symptoms of mental illness, more are likely to get help.
Paramus, New Jersey (PRWEB) May 02, 2014
Northern New Jersey integrated mental health care organization Care Plus NJ, Inc. ("CarePlus") released a public service piece titled "SHARE" to help educate the public on signs and symptoms of mental illness.
CarePlus has developed the SHARE™ campaign as a companion piece to last year's AWARE™ campaign. It is designed to help individuals when they, or someone they know, are struggling silently with a mental illness. The advisement uses the acronym SHARE to outline the steps in recognizing and communicating when you might feel the symptoms of a mental health issue:
S – Say it out loud.
H – Help others to help you.
A – Ask for help.
R – Relax.
E – Empower yourself.
Many individuals suffer from feelings that can overcome their sense of mental wellness. From everyday stressors to more frequent and persistent feelings of hopelessness, fear, or anxiety, it's important that people recognize these feelings and reach out for help. Using the acronym SHARE can help individuals along that path, with an easy way to increase awareness – and acceptance – of care.
"As more people learn to recognize the symptoms of mental illness, more are likely to get help," stated Caryl Felicetta, Director of Marketing for CarePlus. "It's our goal to help people feel comfortable with reaching out for help. This is a perfect message to distribute at businesses, schools, local organizations—anywhere we can reach individuals that might need help."
The piece also notes where individuals can reach out for help, through Bergen County's 262-HELP line or through CarePlus at (201) 986-5000. The SHARE flyer is available to print and share here.
Care Plus NJ, Inc. (http://www.CarePlusNJ.org) is a northern New Jersey provider of recovery-focused mental health, primary care, substance abuse, and family services that addresses the unique needs of individuals with a holistic approach to recovery and overall wellness. Operating out of 23 sites – including three outpatient centers located in Paramus, Fair Lawn, and Montclair, ten residential facilities, offices at three local hospitals, and seven community offices – their services are convenient to clients located throughout Northern New Jersey. They also provide educational programs on mental health-related topics to schools, organizations, and community groups; training topics including certified Mental Health First Aid, Suicide Prevention, Bullying Prevention and Crisis Planning and Intervention Strategies for Schools.