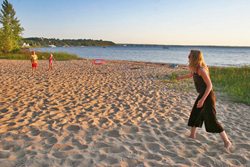 Everyone was writing off this stretch of road. But it's going to be the new gateway into Traverse City.
Traverse City, MI (PRWEB) May 06, 2014
In a time when many coastal resort areas are mourning the disappearance of favorite beaches and scenic landscapes, towns around Traverse City are purchasing and removing unsightly properties to increase public recreational space.the exact opposite is happening.
According to Traverse City Tourism, the region's primary tourism marketing organization, beach and park reclamation efforts have accelerated in recent years as the nearby township of Acme has reclaimed over a mile of its shoreline on East Grand Traverse Bay for park use.
"Concern for our natural resources, especially our beloved bay, is really a big part of who we are," said TCT spokeman Mike Norton. "And because we depend so much on recreational tourism, it also makes good business sense."
Beginning in the 1930s, residents of this former lumber town began buying up abandoned industrial properties along its once-blighted West Grand Traverse Bay shoreline, gradually transforming it into a network of parks, beaches, walking paths, and open spaces. Today almost all the shoreline in the city is public parkland.
Now, a few miles to the east, Acme is doing the same thing: acquiring aging motels and other buildings, tearing them down and reclaiming a mile of shoreline for public use.
"That's a lot of frontage and a lot of acreage, and now it's going to belong to the citizens," said township supervisor Jay Zollinger. "We're just going to be the caretakers of it."
Acme is a small community at the edge of East Grand Traverse Bay, just below the towering buildings and sprawling golf courses of the 900-acre Grand Traverse Resort & Spa. For generations, however, its stunning views of the water have been hidden from public view; the shoreline's proximity to a major state highway promoted a thick and often unsightly wall of commercial growth.
That began to change in the 1980s, when local residents voted to buy a small parcel of property for a public swimming beach known as Bayside Park – the nucleus of what is now a much more extensive project. Over the past five years, township officials have secured some $6 million in state recreational funds and private donations, acquired over six acres of land with 1,300 feet of shoreline, and demolished five motels, a large restaurant and other structures.
The process wasn't without its interesting moments. Demolition of one motel was halted when local residents and historians objected that its main building -- an elegant Victorian home built in 1875 – had belonged to the village's founder. The building, now known as the Hoxsie House, was spare from the wrecker's ball and will be moved this summer to another site to become a historical museum.
Much of the day-to-day work of property acquisition and fundraising was carried out by the nonprofit Grand Traverse Regional Land Conservancy. Conservancy director Glen Chown says the park is one of his organization's most visible successes.
"Everyone was writing off this stretch of road," he said. "But it's going to be the new gateway into Traverse City."
The new beach and park are already open for public use, but it may be several years before local officials are able to install amenities more sophisticated than the current picnic tables and trash cans. They do have a plan for the park's future – including even more land acquisition south of the existing site – but for now they're going to put their energies into creating a permanent endowment for its upkeep.
"We've got some great drawings and conceptual plans, but we haven't begun that process of major rebuilding yet," said Zollinger. "For now, if people want to enjoy the water, walk along the shore, or just sit and watch the sunset – well, those are good things, too."