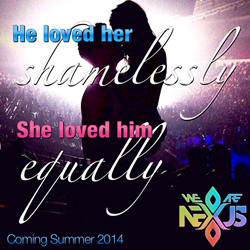 We wanted to do something different, something fresh. Shamelessly (Original Mix) has a 3/4 meter at 140 BPM with some really cool classical leanings. - Nick Gunn, Nexus producer
Chicago, IL (PRWEB) May 05, 2014
It hasn't been long since the rising EDM power duo released their "World Around Me" single to high acclaim on Jan 28th, 2014. With the track debuting recently on the Billboard Club Play Chart, "World Around Me" also showed unprecedented strength at radio with stations such as Music Choice Dance / EDM spinning Nexus' original mix six times a day.
While "World Around Me" continues to show growth it makes sense that in today's highly competitive and growing EDM genre, the EDM duo want to keep the hits coming. "We want to keep our name and our awareness at the front of the industry" says Nick Gunn, producer and composer for Nexus. "It's not enough to sit back and watch one track over six months, we want to produce and release a track, along with remixes, every few months or so."
(We Are) Nexus blasted on to the EDM scene only nine months ago with their cover to Sonique's 1998 hit "It Feels So Good." Peaking at #14 on the Billboard Club Play Charts, and with a spot on the coveted Billboard Top 50 Dance Electronic Songs, it was clear Nexus was no flash in the pan.
Carmen Rainier, vocalist and lyricist for Nexus says, "We continue to grow both musically and lyrically with every release we do. Our new track is so different, we are really excited and nervous all at once."
"Shamelessly is certainly not a track that follows any conventional dance or EDM structure" says Gunn. "We wanted to do something different, something fresh. Our original mix has a 3/4 meter at 140 BPM with some really cool classical leanings."
With a anticipated early summer street date (soon to be announced) "Shamelessly" will be accompanied by remixes from some exciting producers at the top of the EDM industry ladder.
Nexus also recently hosted an appreciation party at Winter Music Conference in Miami as well performed at several functions while there. It appears that the duo is gaining unprecedented respect from their peers after such a short time in the industry. This comes as no surprise as Gunn comes from a successful previous career as a producer and artist in the World music genre. With over 2 million sales and fifteen albums to his credit it seems as the energy now translates to Nexus.
(We Are) Nexus continues their meteoric climb to the top of the EDM industry with the announcement of their latest release "Shamelessly" coming this summer. Keep up to date on release dates, activities and everything related to (We Are) Nexus as summer approaches by following them on Twitter @wearenexusedm and Facebook @wearenexusofficialpage