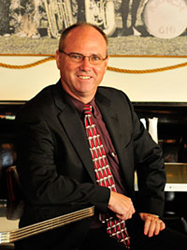 A fervent entrepreneur who built his company from the ground up during America's recession in 2008, Saxby will present and relate to fellow entrepreneurs based on his own experiences and struggles as a founder of a mid-sized company
Houston, Tx (PRWEB) May 03, 2014
Art Saxby, Founder and CEO of Chief Outsiders, the country's largest strategic growth implementation company focused on mid-size businesses, will present at the Houston Entrepreneurs Forum at their monthly breakfast on May 20. The presentation will focus on how cost conscious companies can become market leaders. The breakfast will provide an excellent opportunity for members and the general public to not only listen, but network with individuals interested in entrepreneurship.
A fervent entrepreneur who built his company from the ground up during America's recession in 2008, Saxby will present and relate to fellow entrepreneurs based on his own experiences and struggles as a founder of a mid-sized company.
Since 2008, Art's team of Chief Marketing Officers have sat on the leadership teams and helped implement growth plans at nearly 200 mid-size companies. He will be sharing one of the invaluable insights from those companies, which is that often the best run companies have the hardest time growing.
"People often don't realize that running a company and growing a company are two very different things," says Saxby. "Operationally excellent companies who struggle with growth can benefit by approaching marketing with a logical, linear Growth Gear model."
Saxby's Session will include analysis and findings from Chief Outsiders' Mid-Market CEO Study, conducted in conjunction with the University of Texas, McCombs School of Business. The breakfast will be held at Ouisie's Table at 3939 San Felipe Houston, Texas, 77027 on Tuesday, May 20 from 7:00 to 8:30 AM. Networking begins at 7:00 AM and continues until 7:30 when breakfast is served and Art will speak from 7:45 to 8:10 and answer questions from the audience. The cost is $27 for members and $35 for non members. RSVP to tracyspark(at)aol(dot)com and learn more at http://www.heforum.org
About Chief Outsiders
Headquartered in Houston, TX, and silver winner of the American Business Awards "Company of the Year," Chief Outsiders serves mid-sized companies from coast to coast with part-time CMO services. Chief Outsiders is unique among strategic marketing consulting firms, taking businesses to the next level by working as part of the leadership team on a fractional or as-needed basis. Unlike most marketing consulting firms, Chief Outsiders believes delivering a world-class marketing strategy on its own creates very little value. The real value is created by helping the organization implement the growth vision.
Chief Outsiders has been a premier source for marketing expertise, execution and leadership for companies such as i2C, AbsolutData, Bethyl Labs, Auto Load Logic and Riverside Company portfolio companies including OnCourse Learning, YourMembership.com and IDoc.
About Houston Entrepreneurs' Forum
About The Houston Entrepreneurs' Forum
The Houston Entrepreneurs' Forum was organized in 1985 to promote entrepreneurship among its members as well as the general public. The purpose of each meeting is primarily educational although excellent networking opportunities provides members and guests significant value. Each meeting features a highly successful entrepreneur as the guest speaker. The speakers share insights into their successes and share many of the lessons they learned while building their businesses. "We are honored to have Art Saxby as our next speaker. Mr. Saxby is an innovative thinker and leader in his field, his track record as Founder of Chief Outsiders is incredible. Our members are looking forward to his presentation," said Royce Heslep, Vice President of The Houston Entrepreneurs' Forum.