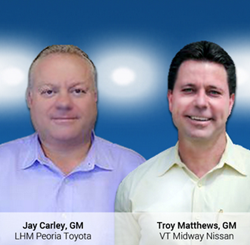 I feel pretty good about the fact that we're gonna win easily. It's a no brainer.
Dallas, TX (PRWEB) May 30, 2014
It's on! Car Wars Grudge Match I is heating up, and the competitors have upped the ante as votes start rolling in.
Car Wars is a competitive scoreboard call-tracking platform that puts dealers in head-to-head battles to be better on the phone and drive more sales. It's the only platform like it and the dealerships on there really push each other to reach the top.
Two top automotive heavy weights Jay Carley, GM at LHM Toyota Peoria and Troy Matthews, GM at VT Midway Nissan, have consistently owned the scoreboard and the phones.
The first time these cross-town rivals from Phoenix, Ariz. were pitted against each other in Car Wars, Carley and his crew at Toyota Peoria were sure they were the best. But over the weekend, more points from both stores came in, and Carley woke up to a loss.
Now we've decided to match them up again for the battle of the ages we call Grudge Match I. This time around the stakes are even higher, complete with major bragging rights, a GIANT Grudge Match trophy, and a Caribbean resort vacation for the individual with the most points are all on the line.
But where do these points come from? We tally up who's connecting more customer calls, requesting more appointments, setting more firm appointments, connecting more outbound calls, and most importantly, salvaging those missed opportunities.
Carley said even though they've fallen behind, he's sure Matthews won't stay on top much longer. "The great thing about Car Wars is if you lose a game, you still win every time. We believe we can still win… and by winning we sell cars! Whoop whoop!"
Matthews said he thinks he's got a leg up on the competition, since Carley and most of his salesman used to work at Van Tuyl themselves. "He's got a bunch of people working for him that used to work for me, and the reason they don't work for me anymore is because they don't like making phone calls!"
Adding fuel to the fire, Cassie Broemmer, Director of Customer Retention and Marketing at VT, wagered a bet with Jerry Winder, VP of Digital at LHM over who would win the battle. Even Larry Van Tuyl himself has announced that he is ready to stand behind Midway Nissan.
Matthews said they are preparing to take down Carley and his crew by, "Focusing a little bit on process and repetition. I feel pretty good about the fact that we're gonna win easily. It's a no brainer."
Carley's strategy is to focus on his team as a whole. "This is about making people successful. Every GM dreams about making people successful. We believe we can win!"
Who do you think should take the win? Cast your votes and get ready for Grudge Match I June 9-15!
Are you ready to pick a fight? We're currently taking Grudge Match II nominations. Bring it.