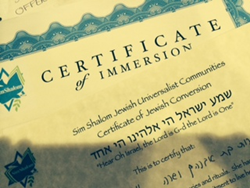 I'm glad I found you, Rabbi Blane and my Jewish home at Sim Shalom. My conversion journey has been long and I'm happy to become one of the Jewish people."Ann in Texas
New York, NY (PRWEB) May 05, 2014
"The spiritual impulse to embrace a faith is so beautiful, so human," says Rabbi Steven Blane, founder of the Sim Shalom community. "Our program provides a home for that impulse. And, being able to study our Judaic tenets online helps make Conversion more accessible."
The Online Conversion program utilizes an LMS-Learning Management System -- similar to the education style prevalent within the secular university community. Eight core units of study have been developed, and the entire course can be completed in as little as six months. Students pay for one unit of study at a time, and complete each unit at their own pace. No travel is required. While convenience is built into the regimen, a solid grounding in the study topics is paramount.
Those topics include: An Introduction to Torah and God through Jewish Traditions and Symbols, Lifecycle Events, Shabbat, and Festivals and High Holidays. In addition, students are required to attend synagogue services with different denominational congregations. They will also participate in Sim Shalom's streaming online services.
Rabbi Blane is a dedicated proponent of Jewish Universalism – a style of Judaism that welcomes all persons to fully participate in the rituals of the faith. He also believes it is important for students to cultivate an awareness of various aspects of Judaic tradition.
During their study, students meet online with Rabbis and staff members to join in group discussion of the topics, as well as talk about life after conversion. "We do not merely 'acknowledge' or 'tolerate.' We embrace, we conduct a lively dialogue, and we build together."
"There are significant, highly nuanced issues to be addressed for those who are converting, and for their families. Accordingly, our online interactions are always supportive and empathetic," states Rabbi Blane.
At the conclusion of the eight-module study program, and after completion of all assignments and readings, students visit a local Mikvah (Ritual Bath). An Online Bet Din is then convened with rabbis from various locations around the country. These rabbis interview and welcome the men and women into the Jewish Faith.
"It's a natural extension of the over-arching Sim Shalom mission to offer Online Jewish Conversion," says Rabbi Blane. "We receive requests to convert every week, and it's a great honor to be able to respond to these requests."
About Sim Shalom
Sim Shalom is an Online Jewish Universalist Synagogue and a non-profit 501(C)(3) tax-exempt organization. Its mission is to nurture a Jewish connection through innovative Services, creative education and dynamic outreach to the global community.
Online Services are offered Monday-Friday live online at 7 p.m. EST. Services are led by different members of Sim Shalom's cadre of Rabbis and Lay-leaders. Information regarding all of these Services– including Sim Shalom's High Holiday Services - can be found at http://www.Simshalom.com.