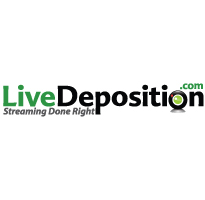 We look forward to attending the 2014 TCRA Annual Convention and are excited to be a part of their seventy-five year celebration
Los Angeles, CA (PRWEB) May 02, 2014
LiveDeposition.com, a leader in local and remote cloud-based deposition streaming solutions, has announced today that they will be exhibiting at the 2014 Texas Court Reporters Association's (TCRA) Annual Conference, being held Friday, May 2, 2014 to Sunday, May 4, 2014 in Galveston, Texas, at the Moody Gardens Hotel and Spa.
Established in 1939, TCRA is the largest association for court reporters in Texas. Their annual conference brings together hundreds of court reporting professionals from across the state looking to expand professional connections, get insight into the court reporting industry, and try out the latest technologies available to them. This year will mark the seventy-fifth anniversary of TCRA's Annual Convention.
In addition to a number of educational seminars, attendees are encouraged to visit the Exhibit Hall, where vendors will be showcasing the latest products and services available to the court reporting industry. The Exhibit Hall will be open from Friday, May 2, 2014 to Saturday, May 3, 2014. LiveDeposition.com will be located in Booth 28. Steven Genter, Director of LiveDeposition.com, will be representing the company and demonstrating LiveDeposition.com's LocalRealtime™ and RemoteRealtime™ products through realtime demonstrations.
Those who stop by LiveDeposition.com's booth will be able to:

See LiveDeposition.com's new LocalRealtime™ System in action; the ONLY Universal Realtime Streaming Software on the market.
Experience the simplicity of setting up and managing a live realtime stream through LiveDeposition.com's cloud-based streaming solution, RemoteRealtime™.
Take LiveDeposition.com's Mobile App for a test drive and see how attendees can instantly send and receive audio and video from an iPad, Kindle Fire or Android enabled Smartphone or Tablet.
See how easy it is to connect their current steno program to LiveDeposition.com.
Learn about upcoming features being added to LiveDeposition.com
"We look forward to attending the 2014 TCRA Annual Convention and are excited to be a part of their seventy-five year celebration." stated Genter. "This will be our second year exhibiting at TCRA's Annual Convention. Since our last visit to Texas, there have been a number of key developments to LiveDeposition.com's product line, specifically the release of our LocalRealtime™ Streaming Solution and we look forward to showing it off."
In addition to the Exhibit Hall, TCRA has added a new event to this year's conference, the "Vendor Showcase and Reception." This event will be held during the evening of May 3, 2014 and will allow conference attendees and vendors to further network with each other in a more relaxed environment.
For more information on LiveDeposition.com please visit http://www.livedeposition.com or call 888.337.6411.
For more information on TCRA or their Annual Conference please visit https://www.tcra-online.com.
About LiveDeposition.com
Headquartered in Sherman Oaks, CA, LiveDeposition.com is powered by MegaMeeting.com, a long-time resident of the video and web conferencing industry. Through their cutting-edge technology, LiveDeposition.com provides the Legal Industry with local and web-based streaming deposition solutions, as well as online video conferencing services. Being exempt from typical download and installation requirements, LiveDeposition.com has proved itself to be a hassle-free way to stay connected, allowing court reporting agencies, court reporters, paralegals, industry experts and legal teams to streamline the litigation process and conduct real-time depositions and online meetings. LiveDeposition.com works on all internet browsers and offers mobile apps for iOS, Android and Kindle Fire users, making its state-of-the-art solutions easily accessible via PCs, Macs, iPhones, iPads, as well as all Android enabled tablets and smartphones.