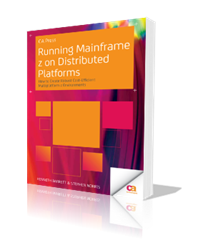 A must-read for anyone interested in successfully deploying cost-efficient zPDT environments with agility in an enterprise that requires simple or complex configurations." —Mahendra Durai, SVP & Information Technology Officer, CA Technologies
New York, New York (PRWEB) May 06, 2014
CA Technologies announces the availability of "Running Mainframe z on Distributed Platforms: How to Create Robust Cost-Efficient Multiplatform z Environments" the latest book published by CA Press. Co-authors Kenneth Barrett and Stephen Norris wrote the book so that CIOs and CTOs across the mainframe and distributed fields, zPDT and RDz UT implementers, and ISVs would have a superior way of updating and upgrading operating systems and subsystems without having to rebuild environments from scratch.
The alternative processes mentioned in this title are geared to be economically rational and easily transitioned to distributed platforms. "A must-read for anyone interested in successfully deploying cost-efficient zPDT environments with agility in an enterprise that requires simple or complex configurations. The case-study-based exposition of the content allows for its easy consumption and use. Excellent!" —Mahendra Durai, SVP & Information Technology Officer, CA Technologies
Although most of the techniques and processes mentioned in this book are not actually new to mainframe or distributed platforms, the methods the authors utilize are unique and more practical. This is especially true when using distributed environments to run mainframe virtual machine (VM) and multiple virtual storage (MVS) systems and make them look and feel like true System z. When reading this book, readers are exposed but not limited to learning about DASD repository methodologies, z/OS and z/VM optimizations, use of symbols in the system IPLs, and backup / recovery integrity and business continuity.
"Running Mainframe z on Distributed Platforms" is available in print and e-book from Amazon, apress.com, or ca.com. For more information about CA Press books and materials visit: http://www.ca.com/capress

ISBN: 978-1-4302-6430-9
285 pages
User Level: Intermediate to Advanced
Publication Date: March 20, 2014
Available eBook Formats : EPUB, MOBI, PDF
Print Book Price : $69.99
eBook Price: $48.99
About the Authors
Kenneth Barrett is Director of Information Technology and Infrastructure Engineering at CA Technologies, responsible for the development of pristine mainframe work environments on the zEnterprise and distributed platform. He is CA technical and management leader for all new IBM mainframes and the architect of a zPDT lab which provides private mainframe environments on Intel-based servers. Previously he was a systems programmer and manager at CA technologies, responsible for a suite of virtual z/OS guests. He has over 30 years experience as a systems programmer and mainframe manager with particular expertise in DOS, VM, z/OS, datacenter management, mainframe security, and disaster recovery. Barrett has a BS in Mathematics and Computer Science from California State College in Pennsylvania.
Stephen Norris is Director of Software Engineering at CA Technologies, responsible for the engineering teams that develop enterprise automation and performance solutions. Prior to this role, Stephen was instrumental in deploying IBM zPDT technology to create virtualized mainframe environments through which mainframe operations on a z series server can be transitioned to a distributed platform. At CA Technologies and previously at Legent, his projects have included updating and expanding network management tools, assisting customers with solution deployment, creation of automation tool kits, and virtualization of lab environments. His experience has enabled him to drive the transition of several CA Technologies Research and Development mainframe environments to a distributed platform quickly and seamlessly. Norris holds a BS in Electrical Engineering from West Virginia University and an MBA from Indiana University of Pennsylvania.
About CA Technologies
CA Technologies provides IT management solutions that help customers manage and secure complex IT environments to support agile business services. Organizations leverage CA Technologies software and SaaS solutions to accelerate innovation, transform infrastructure and secure data and identities, from the data center to the cloud. Learn more about CA Technologies at http://www.ca.com.
About Apress Media
With more than 1,500 books in print and e-formats, Apress is the authoritative source for IT professionals, software developers, and business leaders all over the world. Apress provides high-quality, no-fluff content that helps serious technology professionals build a comprehensive pathway to career success. Since 2007, Apress has been part of Springer Science+Business Media, one of the world's leading scientific, technical, and medical publishing houses, enabling global distribution of Apress publications. For more information, please visit http://www.apress.com.