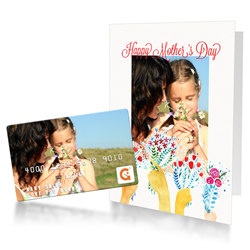 Pittsburgh, PA (PRWEB) May 02, 2014
Still undecided on what to get for Mother's Day? Let GiftCards.com™ help!
With Mother's Day fast approaching, GiftCards.com, the highest-ranking and most-trafficked gift card website, today unveils their suggested 2014 Mother's Day gift ideas, each with a creative flair for delivering gift cards for different situations. In lieu of traditional Mother's Day gifts of flowers and candy, GiftCards.com presents options to empower Moms to apply their gift card to a store of their choice.
This Mother's Day, here are some GiftCards.com new gift card giving ideas:

From Our Feet to Yours: Put a photo of baby's feet into a keepsake frame and add a pedicure gift card.
Spa Girl: Get mom a spa gift card for a relaxing massage or a rejuvenating facial. Pair this Zen-like Mother's Day gift card with her favorite magazine and bottle of luxury mineral water.
Grandma with a Green Thumb: Deliver a garden store gift card inside a planter box with thumbprint art from the grandkids.
Spicy Mama: For the mom who loves to cook, get her a gift card to a cooking store and tuck the card into the pocket of a new apron or tie the card to a new cooking gadget.
Active Mom: If mom is active, get her a gift card for a yoga class, tennis lesson or kickboxing clinic. Place the card inside a new sports bottle or tie it to a box of energy bars.
And to make the gift card extra special, why not personalize it with a photo via GiftCards.com's personalization feature? With GiftCards.com, making custom gift cards has never been easier. All you have to do is add a personal photo to the gift card or use one of the images created by our talented pool of gift card artists.
"With GiftCards.com, we take the traditional gift card a step further by offering friends and families personalized gift cards made perfect for any occasion, including Mother's Day," said Shelley Hunter, Gift Card Girlfriend and spokesperson for GiftCards.com. "Additionally, we also serve as a forum for new gift ideas, advice on how to save money around the holidays, and tips for the best ways to utilize your gift cards."
About GiftCards.com
Since 1999, GiftCards.com has been providing U.S. consumers with an array of gift card products including personalized gift cards, group gift cards, virtual gift cards, discount gift cards, and local gift cards redeemable at millions of establishments across the country. GiftCards.com is also a leader in gift card innovation with 40 patents filed and 9 patents issued/allowed. More information about GiftCards.com can be found on the company's media page.
Media Contact:
Amanda Scaccianoce
WISE PR for GiftCards.com
+1.212.777.2519
amanda(at)wisepublicrelations(dot)com