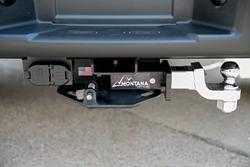 Unique Hitch Solves Towing Hassles...NEVER Bang your Shin Again!
Dallas, TX (PRWEB) May 08, 2014
Montana Hitch is pleased to announce the release of a unique hitch that was designed to solve common towing hassles. Unlike traditional hitches that have to be removed to avoid injury or property damage, the Montana Hitch safely and easily stows under the users vehicle with the simple push of a button in just a second. No tools are needed, and the ball mount is stored under the vehicle, ready for the next use. The Montana Hitch has premium features that solve common towing problems such as banged shins, lost ball mounts and having to disassemble the drawbar. The Montana Hitch has applications for any sport or industry that utilizes towing, including boating, fishing, drag racing, ranching, fleet trucks, electrical crews, landscaping, RV's, and more. The stow away feature benefits truck owners who tow for occasional recreation as well as those who tow daily for work.
The Montana hitch was recently launched at major Dallas area boat and auto shows, where customers were drawn to the premium features not offered by any other hitch on the market. Customers who've already had their Montana Hitch installed are also spreading the word about this problem solving truck accessory. "This hitch is exactly what I needed!", says Jeff Zaiger, Ford F150 owner and Montana Hitch user, "I was so tired of banging my shin on my ball mount. With the new Montana Hitch, I just push a button and my hitch folds all the way under my truck...no more banging my shin and my drawbar and ball mount are ready the next time I need them. This thing is awesome!" Montana Hitch has models available to fit Ford F150/F250/F350/F450/F550 model trucks available now, with Chevy, Toyota and other major makes and models currently in production.
The Montana Hitch was invented in Montana and is being manufactured in Dallas, TX. It has a standard frame attachment and can be installed in about 15 minutes with no cutting or welding. The heavy duty hitch fits standard drawbars and ball mounts, and has a durable, black powder coat finish. It was computer designed using stress analysis and has been tested and certified to SAE J684 standards. US patented, patents are also currently held in Mexico, Canada and Australia, with additional foreign patents pending. The Montana Hitch is currently available through several dealer partners in Texas and Montana and will soon be available through major retailers nationwide.
For information on the Montana Hitch, including press inquiries, purchase information or how to become a dealer partner, please visit us at http://www.MontanaHitch.com, or contact Jennifer Trotter or Michael Landon at 972-955-9182.