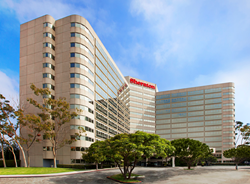 "Investing in green initiatives makes good business sense," explains Greg Sun, Vice President of Hazens Investments. "We are committed to carrying our sustainable mission forward at the Sheraton Gateway Hotel."
Los Angeles, CA (PRWEB) May 03, 2014
The Sheraton Gateway Los Angeles Hotel is very proud to announce the recent purchase of the hotel by its new ownership, "Hazens Investment, LLC" of China. With this change in ownership, the Sheraton Gateway will continue along its sustainability journey with recertification of the Green Seal™ GS-33 Standard for Lodging Properties, Silver Tier. The hotel has had the distinction of being a Green Seal certified hotel for over four years
As one of only seven hotels that have achieved Green Seal certification in the Los Angeles Green Lodging Program, the Sheraton Gateway has put its commitment to environmental stewardship to the test, and has passed. The Green Seal standard for hotels is one of the most robust and rigorous green lodging certifications available. To maintain certification, a hotel must not only demonstrate leadership in environmental practices, it must document its ongoing improvement and undergo regular thorough inspections.
In addition to the standard requirements of waste minimization, energy efficiency, water conservation, pollution prevention, and responsible purchasing, the Sheraton Gateway has placed a heavy focus on ensuring greener meetings. The hotel has just completed a $3.5 million dollar renovation of its meetings and conference spaces, including an energy management system in all meeting spaces with climate control and lighting sensors activated by occupancy loads. The combined initiatives of food waste composting, recycling, and staff training have resulted in an 88.6% waste diversion ratio. Waterless urinals and low flow plumbing fixtures in public spaces and guestrooms reduce water consumption by up to 35%. Behind the scenes initiatives include high efficiency chillers, modernized boilers, and variable speed drives, resulting in a significant reduction in energy consumption.
In late 2014 the hotel will launch a property-wide renovation of all guest rooms and public spaces. Hazens is investing $35 million dollars in the next renovation at the Sheraton Gateway LAX, which will further advance the hotel's green initiatives, including the replacement of all in-room printed materials with digital tablets, advanced energy systems in the guest rooms, and updated plumbing systems and water saving fixtures.
"Investing in green initiatives makes good business sense," explains Greg Sun, Vice President of Hazens Investments. "We are committed to carrying our sustainable mission forward at the Sheraton Gateway Hotel."