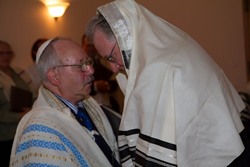 My ordination from JSLI allowed me to fulfill a quest of 35 years," said Rabbi Norman Maybloom. "Now I can follow in the rabbinical steps of my father and grandfather and serve the needs of the seniors at our assisted living community.
New York, NY (PRWEB) June 09, 2014
The JSLI program takes into account the applicant's life experience and integrates that background with a solid core study curriculum. The program's popularity is growing, and there are 80 students who are either enrolled in or who have completed studies.
"Our students typically come to us already equipped with various skills and multi-dimensional life experiences," said Rabbi Steve Blane, founder of Sim Shalom. "JSLI honors that background. A wealth of life lessons can catalyze and deepen the formal educational experience."
Our 60 + already ordained rabbis come from all walks of Jewish life and denominations. Many serve congregations, are Jewish educators, cantors and some are fulfilling a life long dream previously made impossible by the high costs and time commitment required at main stream seminaries. Our current class that will be ordained in July is comprised of several working cantors, an Israeli and two African American Jews.
The JSLI online curriculum ensures deep knowledge of Jewish history and texts, Shabbat, Jewish Festivals, the High Holidays, and the full complement of pertinent rituals and life cycles. Rabbinic classes meet once a week online via a video conference , making it possible to see and hear the other participants. The weekly sessions include prayer (Davennen), exploring the weekly Torah segment (Parasha), and discussing relevant rabbinic law (Halacha). Prior to each week's session, students access assignments and course materials online.
In addition to weekly course work, students are also required to lead worship services, write a final paper, and lead a presentation in their area of expertise.
Once a student has completed the program, they participate in JSLI's ordination ceremony and become a fully ordained rabbi. They then receive their Semicha – which certifies that they have demonstrated familiarity with the required codes and texts, and are empowered to serve as rabbi and teacher. And then, the real work begins.
"It is our expectation that ongoing spiritual work is an integral aspect of the spiritual journey," says Rabbi Blane. "Completion of the curriculum signals not the end of a journey, but the beginning."
The student response to the educational environment and spiritual support offered by JSLI is resoundingly favorable.
"I can't thank you enough for making my dream come true," said Rabbi Dario Hunter. "I plan to be a part of the JSLI/Sim Shalom community for a very long time."
About Sim Shalom
Sim Shalom is an Online Jewish Universalist Synagogue and a non-profit 501(C)(3) tax-exempt organization. Its mission is to nurture a Jewish connection through innovative Services, creative education and dynamic outreach to the global community. Online Services are offered Monday-Friday live online at 7 p.m. EST. Services are led by different members of Sim Shalom's cadre of Rabbis and Lay-leaders.