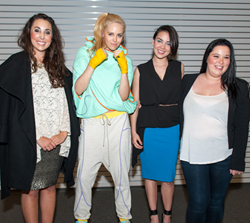 Los Angeles, CA (PRWEB) May 03, 2014
Students from various FIDM/Fashion Institute of Design & Merchandising majors competed in Cotton University's Just Design It Student Scholarship Competition, sponsored by Cotton Inc. The entrants worked in groups of three over two quarters to research a specific sport activity and their fiber properties, technical construction, and consumer needs required for success.
Teams then attended workshops, such as Customer Research, Cotton Textiles, and Technical and Performance Features, to increase their knowledge of cotton fabrics and how they can be used to enhance active wear products. The groups produced one sample each from their product lines and presented their product assortment via a visual and oral presentation in front of a panel of judges from the industry.
First Place (Boxing) went to International Manufacturing & Product Development Students Linda Solano Diaz, Brodie Silver, and Amanda Ziegler. Second place (Dancewear) was awarded to Business Management Students Amanda Gebran and Imani Steiner and Interior Design Student Danny Lucero. And third place (Equestrian) went to Business Management Students Leslie Seo and Helen Ton and Graphic Design Student Patrick Pin-Tsung Lee.
The three winning teams each received scholarships. FIDM has a longstanding relationship with Cotton, Inc. who has generously awarded over $30,000 a year in scholarship funds exclusively to a handful of dedicated, innovative, and eager-to-learn FIDM students.
FIDM/Fashion Institute of Design & Merchandising is a co-educational, specialized, private college dedicated to educating students for the Fashion, Graphics, Interior Design, and Entertainment industries. Known as a one of the top fashion design schools, FIDM is also a leading graphic design school and digital media college. Visit fidm.edu for more information.