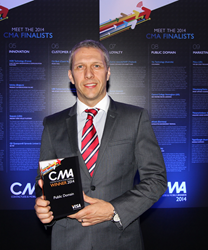 London, UK (PRWEB) May 02, 2014
The prestigious 2014 Contactless and Mobile Awards are out, and Vix Technology has taken top honors in the Public Domain category for its UTA FAREPAY system. The event, sponsored by Visa Europe, and hosted by Krowne Communications recognizes innovations in contactless and NFC technology. Steve Atkins, the CEO of Krowne Communications and Editor-in-Chief of Contactless Intelligence, said, "We honor those firms that are really making a difference in getting contactless devices into the hands of users."
The Public Domain award acknowledges continuing advances in the fare collection system Vix Technology originally designed and operates for Salt Lake City's UTA (Utah Transit Authority). It recognizes innovations in applying contactless payment technologies, including the support of prepaid contactless card products and mobile NFC, into the account-based fare collection platform called Vix eO (easy and open).
Vix continues to leverage advanced contactless technology, and the Vix eO system enables riders to pay their fares not only with cards issued by the UTA, prepaid contactless cards, but also with student and employee ID cards, bank-issued credit cards, ISIS mobile wallet and Google Wallets. This advanced technology is widely available as part of the Vix global open-payment fare collection offering based on commercially available off-the-shelf software components.
This comes on the heels of winning the MasterCard Transport Ticketing Award for Transport Ticketing Technology of the Year in January. "This award sponsored by Visa is added recognition of Vix's open-system approach and system extensibility of the eO platform architecture to handle multiple contactless payment methods for transit," affirms Doug Thomas, General Manager of Vix Technology (USA). "Both awards further showcase our role in driving innovation globally."
The Vix eO account-based fare collection system offers significant advantages over more traditional payment. It's fast and hassle-free, and there's no need to carry cash, find exact change, or keep track of paper tickets. The system offers lost card protection: tickets and passes are saved in the rider's account, even if the card is lost. It also offers easy account management: users reload via phone, web, retail outlet, or choose auto-load. It's convenient: riders buy cards through a large network of retail locations. And, it's contactless: there's nothing to swipe or insert, just tap the card or phone on the reader.
The Vix system is account-based and the back-office software manages ridership processing – taps, trips, journeys, fare calculations, transfer rules, payment options and handles agency settlement and complex fare rules. For agencies, the value of an open-architecture, account-based solution provides flexibility and ensures a future-proof system that reduces costs and improves performance.
"The Vix eO payment platform is business-critical for our customers. It provides the foundation for a great commuter experience and reduces operating cost for transit agencies. As a result, our systems must be able to effortlessly and rapidly process large volumes of passenger transactions regardless of the payment media," says Thomas.
For more information about Vix Technology visit:
http://www.vixtechnology.com
http://www.twitter.com/Vix_Americas
Media Contacts:
Toby Holmes
Vix Technology, USA
PH: 206-749-5500
Americas(at)vixtechnology(dot)com