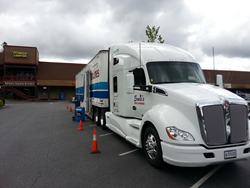 Grass Valley, CA (PRWEB) May 02, 2014
Fewer people will go to bed hungry tonight in Grass Valley, thanks to a generous show of community support for the area's first-ever "Fill a Truck" event. The food drive took place Sunday, conducted by employees of Ernie's Van & Storage.
"It's sad that many families here in Grass Valley are unable to put food on the table," says Matt Sowell, General Manager, Ernie's Van & Storage. "We wanted to draw attention to this fact and, at the same time, give people a chance to join us in doing something about it."
Thirteen representatives from Ernie's, including employees and family members, collected non-perishable food items from 10 a.m. to 4 p.m. outside Raley's Supermarket on Freeman Lane. "We're very grateful to Raley's for allowing us to conduct this event at their location," says Matt Sowell, General Manager, Ernie's Van & Storage.
The event received support from Move For Hunger, a non-profit that works with moving companies to relieve hunger at the local level. Ernie's Van & Storage is among more than 100 Atlas agents who participate in Move For Hunger by giving customers the option to donate unopened, shelf-stable foods when moving.
"The neat thing about Move For Hunger is that donated food goes to feed people in the community where it is collected," says Matt. "We were pleased to deliver everything we collected, all 1700 pounds plus twenty-five dollars, to the Nevada County Food Bank in Grass Valley." For more information on the event visit: http://evsmoving.com/blog/2014/fill-a-truck-event-with-move-for-hunger.
Ernie's Van & Storage in Grass Valley and Rocklin, California, is a full service mover and an agent of Atlas Van Lines serving Nevada County and Placer County. The company has been owned and operated by the Sowell family since 1935. For more information, visit http://www.evsmoving.com.
Move For Hunger is a non-profit organization that works with relocation companies across the country to help strengthen our nation's food banks.
Raley's is a privately owned, family operated supermarket chain headquartered in West Sacramento, California, with 128 stores in Northern California and Nevada.