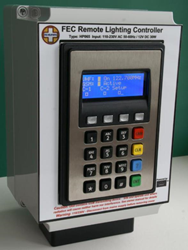 London, England (PRWEB) May 02, 2014
Pilots and operators of helipad lighting need no longer rely solely on the use of VHF radio. The new Remote Lighting Controller (RLC) from FEC Heliports uses traditional VHF radio but also supports SMS control of helipad lighting from any mobile device. The RLC unit also offers automatic weather reporting (wind speed/direction, temperature, dew point and pressure) directly from the helipad.
FEC Heliports have manufactured and installed more helipads around the world than any other company. When it came to designing the RLC they knew it had to be powerful and easy to use. They also knew it had to be tough enough to withstand extreme weather conditions.
They selected the Storm FT2K integrated keypad and display because it is built to withstand even the most extreme environments. Important safety critical parameters and diagnostic systems are configured using the Storm keypad and LCD display.
FEC's Remote Lighting Controller sits at the heart of a monitoring and control capability. For the first time it combines remote lighting control, helipad weather and system reporting.
Background Information:
Storm Interface is an award winning, UK based, manufacturer of Human Interface Devices. The Storm range of secured, sealed and toughened data entry devices are field proven and laboratory tested. They are constructed to survive in the most demanding applications and environments. Since 1986, Storm's design, technology and manufacturing quality have established Storm products as the industry standard for durability and reliability. http://www.storm-interface.com
Founded in 1996, FEC Heliports is a subsidiary of Federal Equipment Company based in Cincinnati, Ohio USA. FEC Heliports is the world leader in the design and construction of heliports and their associated equipment. Their ground, rooftop, offshore, shipboard and speciality heliports are installed in locations worldwide.
http://www.fecheliports.com | http://www.heliportsequipment.com/heliport-lighting/