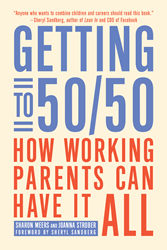 'All types of families can benefit from shifting perspective from competition between men and women, to cooperation that improves life for everyone involved.' —Foreword Reviews
(PRWEB) May 02, 2014
Sharon Meers and Joanna Strober will be presenting on how to be successful at work and lead a full home life, at the Commonwealth Club on May 27. Meers and Strober will offer helpful ideas from their book Getting to 50/50 to successfully navigate the challenges of sharing work and family responsibilities. The bay area local authors will share personal stories, compelling social science and a practical roadmap to help both women and men stay engaged with their kids without sacrificing their careers. Meers and Strober are a source of hope and confidence to any parent who has ever questioned their choices regarding career and family.
Join Sharon Meers and Joanna Strober at the Commonwealth Club on Tuesday, May 27, 6:00 p.m.
What People Are Saying about Getting to 50/50 (also available in audio):
"Getting to 50/50 offers hope and help, perspective and advice and ultimately, some extraordinarily practical approaches to making a family work, regardless of the specific challenges that family faces."
—About.com
"Don't believe the myths about women and work—this advice will benefit you now and in the future."
—Sheryl Sandberg, author of Lean In and COO of Facebook
Sharon Meers is the coauthor of Getting to 50/50, now out in paperback. Find her online at @Gettingto50_50, Getting to 50/50 Facebook, and http://www.gettingto5050.com. Currently, Sharon is the Head of Magento Enterprise Strategy, which is part of eBay Inc., a global commerce and payments leader. Formerly, Sharon was a Managing Director at Goldman Sachs.
Joanna Strober is the Founder and CEO of an online company developing a platform and tools to help fight and prevent childhood obesity. Formerly, she was a direct venture capital investor and private equity investor for over 20 years.
Sharon and Joanna both live in the San Francisco Bay Area with their husbands and children.