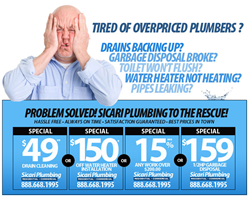 Sicari Plumbing has been the topped ranked La Crescenta Montrose plumber for more than 30 years.
La Crescenta Montrose, California (PRWEB) May 01, 2014
Sicari Plumbing has been the topped ranked La Crescenta Montrose plumber for more than 30 years and is now offering a fresh batch of discount prices including $150 off hot water heater installations all summer on top of their already low, guaranteed honest flat rate prices. Sicari Plumbing customers have appreciated throughout the years, being able to know up front exactly what their plumbing bills will be for all plumbing repairs and installations, without having to stress over hidden fees and expensive add-ons that typically pop up as a plumbing repair takes place with many other Los Angeles area plumbers. Both home and business owners who are sick of being taken by unexpected and sometimes ambiguous charges for their LA plumbing needs are finding relief to their anguish with the flat rate, by the job rates of Sicari Plumbing.
Sicari Plumbing has been a leading Los Angeles plumber for well over 30 years and well known throughout the community for their superior reputation, extreme work ethic, and Sicari's unmatched expertise, first-rate customer service, guaranteed on time 24-hour service, and the lowest prices in town. Sicari Plumbing services the entire Los Angeles area including the San Gabriel Valley, Pasadena, the San Fernando Valley, and Santa Clarita areas. After more than 30 years in the plumbing business there isn't a drain that Sicari couldn't tame.
"We have a staff of plumbers that take pride in their work," owner Joe Sicari said. "That means customers can only expect the best from us! When our plumbing technicians meet with them at their homes, they are willing to listen and offer advice. Our services are competitively priced for small and large jobs alike. We're skilled in all types of plumbing projects, from small plumbing repairs to large new construction and remodels."
For those looking for a plumber in Studio City, Woodland Hills, Canyon Country, Van Nuys, North Hollywood, Burbank, Canoga, Sherman Oaks, Saugus, La Crescenta Montrose, Valencia, or anywhere else in the Los Angeles area, the answer is simple: Sicari Plumbing. Service appointments and inquiries can be made at (888) 668-1995 or online at http://www.sicariplumbing.com.