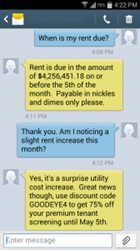 It is all about making the day to day chores of property managers easier.
Grants Pass, OR (PRWEB) May 06, 2014
Rentec Direct, maker of leading property management software announces an improvement to an existing tool to facilitate text communications between landlord or property manager and tenants. While traditional text messaging (SMS) is limited to 160 characters, Rentec Direct has updated their system to accommodate larger text messages which can be up to a maximum of 1600 characters. They do this by splitting the message into chunks and sending them to the cellular carrier one at a time. Rentec users now have permission to be more wordy in outgoing SMS messages.
To use SMS messaging, just right-click on a tenant or owner and choose Email / SMS. SMS messages are instantly delivered to a mobile device.
When asked why Rentec Direct puts so much effort into customer requests and improving their software, Nathan Miller, President of Rentec Direct replied, "It is all about making the day to day chores of property managers easier."
To learn more about Rentec Direct or to obtain a 30-day full featured free trial of the software, visit http://www.rentecdirect.com/.
About Rentec Direct
Rentec Direct provides cloud based rental software solutions for property managers and landlords. Other popular solutions offered by Rentec include tenant ACH payment processing, tenant screening, and online syndication of vacancies to more than twenty popular websites.