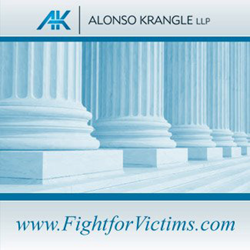 Alonso Krangle is offering FREE vaginal mesh lawsuit consultations, also known as a transvaginal Mesh Lawsuit, or Bladder Mesh Sling Lawsuit, to victims of mesh side effects. Call 1-800-403-6191 or visit http://www.FightForVictims.com
New York, NY (PRWEB) May 01, 2014
Endo International has purportedly announced it will agree to pay a $830 million vaginal mesh settlement to resolve 22,000 vaginal mesh lawsuits filed against the makers of Perigee, Elevate, and Apogee surgical mesh implants, reports Reuters. The defective medical device attorneys at Alonso Krangle LLP are reporting through court of record, that there are currently 50,000 vaginal mesh lawsuit pending in in U.S. District Court for the Southern District of West Virginia under U.S. District Judge Joseph Goodwin. (In re: American Medical Systems, Inc., Pelvic Repair Systems Products Liability Litigation (MDL No. 2325)) The vaginal mesh settlement, which must be approved, is subject to confirmation of plaintiff medical records and several other conditions. [reuters.com/article/2014/04/30/endo-mesh-settlement-idUSL2N0NM2V820140430, April 30, 2014]
The attorneys at Alonso Krangle also note, Endo agreed to the settlement a day after the U.S. Food and Drug Administration issued two proposed orders regarding the health risks that have been associated with vaginal mesh devices. If the orders are approved, vaginal mesh devices will be reclassified as class III high risk devices, and will require that vaginal mesh manufacturers submit an application for premarket approval for the government agency to evaluate device efficacy and effectiveness.
[fda.gov/NewsEvents/Newsroom/PressAnnouncements/ucm395192.htm, April 29, 2014]
This is not the first settlement initiated by Endo. Bloomberg news reported that in June 2013, Endo Health Solutions and American Medical Systems, agreed to pay $54.5 million to settle a small amount of vaginal lawsuits involving the company's pelvic mesh products. In February 2014, Endo revealed that it had increased its product liability reserve to about $520 million, after determining that it will likely cost at least that much to resolve the transvaginal mesh litigation involving American Medical Systems.
[bloomberg.com/news/2013-06-21/endo-health-unit-pays-55-million-in-vaginal-mesh-accord.html, June 20, 2013]
There are currently 50,000 vaginal mesh lawsuits on court of record pending against major vaginal mesh manufacturers alleging that women recipients suffered serious and severe injury including mesh erosion and shrinkage, infection, vaginal scarring, chronic pelvic pain, and pain during sexual intercourse. U.S. District Court for the Southern District of West Virginia and include:
In re: Boston Scientific Corp., Pelvic Repair System Products Liability Litigation (MDL No. 2326);
In Re C. R. Bard, Inc., Pelvic Repair System Products Liability Litigation (MDL No. 2187);
In Re: Coloplast Corp. Pelvic Support System Products Liability Litigation (MDL No. 2387);
n Re Cook Medical, Inc., Pelvic Repair System Products Liability Litigation (MDL No. 2440).
In 2008 and again in 2011, the FDA issued safety communications regarding the serious health complications that had been linked to transvaginal implantation of these surgical mesh devices. The agency had received more than 1,000 adverse event reports during a three year period, prompting the 2008 warning. By 2011, the agency had received five times as many complication reports, with the most common adverse events being mesh erosion through the vaginal wall, which can require multiple surgeries to resolve. In 2012, the FDA ordered all vaginal mesh device manufacturers to conduct about 522 post market surveillance studies to "address specific safety and effectiveness concerns." [fda.gov/MedicalDevices/Safety/AlertsandNotices/PublicHealthNotifications/ucm061976.htm, July 2011]
If you or a loved one suffered painful complications, including mesh erosion and extrusion, organ perforation, painful sexual intercourse, vaginal bleeding, or chronic infections following POP or SUI surgery that involved a transvaginal mesh product, you may be eligible to file a personal injury lawsuit against the manufacturers of your implant. To learn more about the legal options available to you, please contact the transvaginal mesh injury lawyers at Alonso Krangle LLP by filling out our online form or calling 800-403-6191.
About Alonso Krangle LLP
Andres Alonso and David Krangle, attorneys with almost 40 years of collective legal experience, have focused their law practice on the handling of significant personal injury cases, defective drug and medical device litigation, construction site accidents, nursing home abuse, medical negligence, qui tam/whistleblower actions and consumer fraud cases. A nationwide law firm representing injured victims throughout the U.S., Alonso Krangle LLP is headquartered in Long Island, New York, with offices in New York City, and New Jersey. To discuss filing a testosterone therapy lawsuit, please contact Alonso Krangle LLP at 1-800-403-6191 or visit our website, http://www.FightForVictims.com
For more information about Alonso Krangle LLP or to join the fight and be a part of our team, please contact us at 1-800-403-6191 or visit our website, http://www.FightForVictims.com
Contact:
Alonso Krangle LLP
445 Broad Hollow Road
Suite 205
Melville, New York 11747
Toll-FREE 1-800-403-6191
Tel: 516-350-5555
Fax: 516-350-5554
http://www.fightforvictims.com