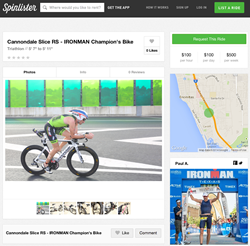 Santa Monica, CA (PRWEB) May 02, 2014
Spinlister, the peer-to-peer global bike share, announced today that Ironman Champion Paul Amey has officially endorsed their platform and is the first to join Spinlister as a professional athlete evangelist. Amey is a three time ITU World Duathlon Champion, a British Ironman record holder, and a 2013 Ironman Texas Champion. Every athlete now has the opportunity to rent Amey's bike for training or race day, get expert advice or training tips, and meet a triathlon idol.
"I'm listing my bikes on Spinlister in order to support other triathletes. Training for triathlons are hard enough, why should triathletes also have to deal with the hassle and high cost of shipping their bikes?" says Amey. Spinlister is connecting triathletes worldwide by providing them with a service to rent bikes from each other instead of buying or shipping bikes for race day. "The high cost of the top of the line race bikes are unattainable for many people these days, so for anyone who is unable to purchase a professional race bike, Spinlister gives everyone a chance to ride and compete on a bike of their dreams...but at a fraction of the cost" says Amey.
Amey is the first professional athlete to join the Spinlister team, however, other major athletes are to be announced shortly. "We're very excited to have Paul Amey as part of the Spinlister family. I believe athletes will be excited about the opportunity to rent a bike from an Ironman Champion!" says Spinlister's CEO Marcelo Loureiro.
Spinlister is encouraging triathletes to list their bikes at http://www.spinlister.com/list to make money and to help fellow athletes in need of a bike. All bikes are insured up to $5,000 against theft or damage. If you would like to rent the bike of an Ironman Champion or find bikes to rent in the city of an upcoming race, please visit http://www.spinlister.com.
About Spinlister:
Launched on April 1st 2012, Spinlister is a peer-to-peer global bike share that allows users to rent and list bicycles, skis, and snowboards from each other in over 50 countries worldwide. With their seamless web, iOS and android apps, built-in security features, and a database of user reviews, Spinlister has won the trust of communities of cyclists, skiers, and snowboarders all over the globe.