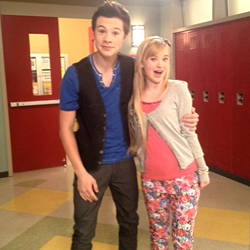 Studio City, CA (PRWEB) May 01, 2014
Zayne Emory, a 2008 Premiere Event talent from McMinnville, Oregon, has made quite the splash in just a short time in Hollywood. Zayne has appeared in numerous TV series on ABC, CBS, Disney, Disney XD and a feature film for Warner Brothers. He has won two Young Artists Awards for his appearances on Disney XD's "I'm in the Band" and was nominated for his guest role on Disney's "Shake It Up!". Zayne is now celebrating his fourth nomination for his appearance on the Disney Channel smash hit "A.N.T. Farm".
The winners will be announced on Sunday, May 4, 2014, in the Empire Ballroom of the Sportsmen's Lodge Hotel in Studio City, California. According to the CEO of Premiere Event, Michael David Palance, "When you review Zayne's performances over the years, you can tell this young man is here to stay." This is the third year that Emory has been a candidate for a Young Artist Award. He won an award in 2011 for his role as Chuck on Disney XD's "I'm in the Band", was nominated in 2012 for his performance on Disney Channel's "Shake It Up" and also won another award that year for his recurring role on "I'm in the Band".
Emory's depiction of Graham in the RestaurANTeur episode on "A.N.T. Farm" (2013) is responsible for his current nomination for Best Performance in a TV Series by a Guest Starring Young Actor 14-16. Emory began working professionally in film and television following his participation at Premiere Event, which is a worldwide organizer of talent searches dedicated to showcasing talented young performers. "Our interview and audition process has shown talent agents worldwide that our selection process has become an industry standard," said Palance.
Zayne's credits include appearances on Disney XD's "Kickin' It", Disney's "A.N.T. Farm", Disney's "Shake It Up!", Disney XD's "I'm in the Band", Disney's "Shmagreggie Saves the World", ABC's "Modern Family", ABC's "Desperate Housewives", CBS's "Criminal Minds", CBS's "CSI: Miami", CBS's "Ghost Whisperer", Showtime's "Shameless", TNT's "The Closer" and the Warner Brothers feature film "Crazy, Stupid, Love" starring Steve Carell and Julianne Moore. His most recent roles include David on "Loopers" (2014) and Lance on "An American Education" (2014).
Past celebrities that have attended Premiere Event include Eric Allan Kramer from Disney's "Good Luck Charlie," Ariana Grande "Sam and Cat", Mikey Reid and Leon Thomas III from Nick's "Victorious," Stefanie Scott and Carlon Jeffrey from Disney's "A.N.T. Farm," along with Premiere Event talent celebrities like Hayden Byerly who is on ABC Family's "The Fosters".