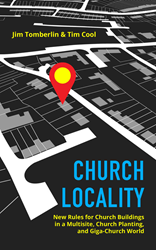 Jim Tomberlin and Tim Cool use research and common sense to help leaders maximize God-given momentum and avoid costly mistakes in the selection of new ministry locations. - Greg Surratt, Pastor, Seacoast Church
(PRWEB) May 03, 2014
Rainer Publishing Releases Jim Tomberlin and Tim Cool's New Book: Church Locality
A simple question is the emphasis for Tomberlin and Cool's new book, Church Locality: Where? While many bemoan the current health of the American church, there are examples of growing, thriving churches. This book addresses where healthy churches grow.
For church plants and the 8,000 multisite churches in America, location and facility matter greatly. Where does the church meet? Where is the right location? Which locations provide the greatest opportunity to reach people? What are the potential pitfalls of a specific location?
New rules have emerged for church buildings and church plants. Several options now exist for multiple campuses. Tomberlin and Cool drill down to the core of where the best options are located. Church locality is about the convergence of location and facility. This book gives practical insight into the best location for optimal church health.
Tomberlin and Cool bring decades of experience together for a unique perspective on church locations and facilities. Tomberlin pioneered the multisite movement at Willow Creek Community Church. Cool has spent the last 30 years helping churches build better facilities. Additional contributors to the book include Ed Stetzer, Brad Leeper, and Rich Birch. Rainer Publishing is excited to offer this title, available at Amazon.com (http://amzn.com/0692203133).