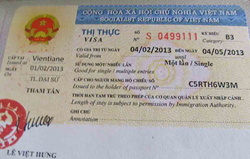 Hanoi, Vietnam (PRWEB) May 02, 2014
Vietnamvisa.org is the leading website which is authorized to issue Vietnam visa approval letters. The site often supports 24/7 service so that the sale staffs always are available to help and greet visitors in a friendly manner. Recently, the site has announced to providing the urgent 4 working hour service at weekend or holiday.
Vietnamese entry visa (a business visa and a tourist visa) is required for all foreigners wishing to visit Vietnam except for citizens of countries having bilateral agreements on visa exemption with Vietnam. The time to process a visa application is normally 2 (two) working days. In case of urgency, the applicant should select the urgent service: 1 working day, 6 hours, 4 hours and 2 hours. These services are accepted from 8:00 a.m to 5:30 p.m from Monday to Friday every week. But now, due to being in a good relationship with the Vietnam Immigration Department, customers also obtain a visa on arrival if they are going to entry Vietnam at weekend or holiday by using the rush 4 working hour service (weekend or holiday). It means that the applicants just have to wait no more than 4 hours to get the visa after processing their payment successfully although their flight is going to depart on Sunday or National Holiday.
Normally, the Vietnamese visa can be applied no earlier than 6 months prior to date of departure and the applicant can enter Vietnam anytime from proposed date of entry. However, please note that, the visa will be expired exactly from the date as given.
About vietnamvisa.org
Operated by Smile Travel Vietnam agency from 2008, vietnamvisa.org has been supporting the visa on arrival for customers from Europe and America. The site is well-designed very prestige and informative. For further details, please call +84 988 580 614.