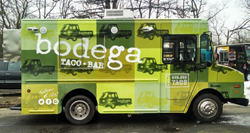 Fairfield County, CT (PRWEB) May 02, 2014
Earlier this month, well established Bodega Taco Bar hit the road with its latest addition, The Bodega Taco Bar Food Truck. Celebrate with the new green mobile this weekend in Fairfield County at its annual Cinco de Mayo Fiesta.
Fairfield County will have an opportunity to try all of the Mexican and Californian inspired fare the Bodega Taco Bar Food Truck has to offer this weekend at the annual Cinco de Mayo Fiesta. The Bodega team will be kicking off the Fairfield County Cinco de Mayo Fiesta a few days early on Friday, May 2nd, because the only thing better than a Cinco de Mayo fiesta is a dos, tres, quattro and cinco de Mayo fiesta. This massive party weekend will also feature the unveiling of Bodega's "Year of the Pig" menu, just one of the many highlights being offered.
Bodega Taco Bar Food Truck is a spin-off of the immensely popular brick-and-mortar Bodega Taco Bar located in Fairfield and Darien Connecticut. The overwhelming response in the community has had the request for private fiestas to be rolling in ever since. The owners fuse Mexican and Californian cuisine to create fresh dishes like crunchy kale and mushroom tacos and tuna tartar tostadas.
The annual Connecticut celebration, with the help of The Bodega Taco Bar Food Truck, will feature tequila tastings, cocktail specials, live music, and dancing. Right before the big dance on Monday the Food Truck will have an exclusive Sunday family Cinco brunch menu and a host of activities for all ages, including "touch a truck" and piñata games.
To have their truck outfitted with all the necessary bells and maracas needed for such a party The Bodega Taco Bar reached out to Vending Trucks to customize and equip their mobile food truck. Vending Trucks, located in East Brunswick, NJ, has been customizing and upgrading food trucks for vendors all over the country. For the Bodega team, Vending Trucks designed and equipped custom features in the food truck to maximize space and storage for ample room to prep, store, and serve their food.
Check out The Bodega Food Truck's Facebook and Twitter pages for the truck's full schedule for the Cinco de Mayo Fiesta and more information on additional events the food truck will be attending! Look for The Bodega Taco Bar Food Truck to bring the fiesta this summer all across Connecticut.