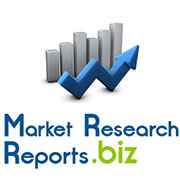 Global Jack-Up Rig Market Report: 2014
(PRWEB) May 02, 2014
Jackup rigs are mobile, self-elevating drilling platforms equipped with legs that can be lowered to the ocean floor until a foundation is established to support the drilling platform. Once a foundation is established, the drilling platform is then jacked further up the legs so that the platform is above the highest expected waves. Generally, Jackup rigs are subject to a maximum water depth of approximately 350 to 400 feet according to leg length, while some Jackup rigs have hulls that allow them to drill in water depths as shallow as ten feet. The principle difference between Jackup rigs lies in the areas of leg length, seabed/leg interaction (mat versus independent leg), and drilling mode capabilities (cantilever versus slot).
Browse Full Report With TOC: http://www.marketresearchreports.biz/analysis-details/global-jack-up-rig-market-report-2014-edition.
The global market for Jackup rigs witnessed a decline in 2009 for the first time since 2004, mainly as a result of the global economic crisis. The market registered a notable fall in the demand of Jackup rigs, in addition to a historic fall in the rigs utilization rate, reaching below 80%. The market in 2013 reported the highest orders ever in the history of Jackup building due to which market reported high day rates. Furthermore, the notably increasing offshore exploration and productivity operations across the globe are certain to fuel the growth of the worldwide Jackup rigs market in the years to come.
Factors like growing oil demand due to rising population rates, increasing E&P expenditures, and improving worldwide economic conditions are boosting the growth in Jack-up rig market. Despite the existence of various growth drivers, there are certain challenges faced by the industry including environmental concerns, offshore accidents, and depletion of oil reserves which can potentially hinder the growth of the industry.
The report, "Global Jack-up Rig Market" analyzes the development of the respective market, with a focus on regions including the South East Asia, Middle East and Mexico. The major trends, growth drivers as well as issues being faced by the industry are being presented in this report. The industry is predominated by a handful of players including Keppel Corporation, Sembcorp Marine, and COSCO Corporation contending and vying for capturing market share. The profiles of these leading players are also included in the report along with their key financials and strategies for growth.
To Download Full Reprt With TOC: http://www.marketresearchreports.biz/sample/sample/196200.
Table of Content
1. Market Overview
1.1 Oilfield Services Market Value Chain
1.2 Types of Offshore Assets
1.2.1 Rigs
1.2.2 Support Vessels
1.3 Offshore Drilling Rig Structure
1.4 Jack Up Rigs
1.4.1 Types of Jackup Rigs
1.4.2 Advantages of Jackup Rigs
2. Jackup Rigs - Market Size
Fleet Size
Order Trend
Deliveries
2.1 Market Segmentation by Rig Type
By Water Depth
By Rig Type
Jackup IC
Jackup IS
Jackup MC
Jackup MS
2.2 Market Segmentation by Geography
Demand Breakdown by Region
Day Rates by Region
Utilization by Region
2.2.1 Southeast Asia
2.2.2 Middle East
2.2.3 Mexico
To Read More Reports With TOC:
http://www.marketresearchreports.biz/analysis/196200
3. Market Dynamics
3.1 Key Trends
3.1.1 Technological Advances of Jackup Unit
3.1.2 Contracted vs. Uncontracted Jack-Up Rig Trend
3.1.3 Increasing Demand of Premium Jack Up Rigs
3.1.4 Age of Jackup Fleet
3.2 Growth Drivers
3.2.1 Growing Global Population
3.2.2 Rising Global Oil Demand
4. Competitive Landscape
4.1 Rig Builders
4.1.1 Global Market
Market Share
Orders by Major Yards
Deliveries by Major Yards
4.1.2 China
4.2 Drilling Contractor
4.2.1 Global Market
Top Players by Fleet Size
Age & Rates Comparison
Market Share of Companies by Geography
4.2.2 Mexico
5. Company Profiles
5.1 Keppel Corporation
5.1.1 Business Overview
5.1.2 Financial Overview
5.1.3 Business Strategies
Focus on Research & Development
Developing Innovative Rigs
Latest Reports:
Shale Gas Market - Global Industry Analysis, Size, Share, Growth, Trends And Forecast 2013 - 2019
Browse Full Report With TOC: http://www.marketresearchreports.biz/analysis-details/shale-gas-market-global-industry-size-market-share-trends-analysis-and-forecasts-2012-2018
The demand for shale gas is constantly increasing as the depleting energy reserves have forced the world to focus on unconventional source of energy. A revolution in this sector started with the production of shale gas. The success of shale gas in North America has motivated other countries such as China to invest in it. The U.S. dominates the shale gas market in terms of production as well as revenue. However, cost of production and contamination of surface water are expected to hinder the market growth in the near future.
This report focuses on estimates and forecasts of the global shale gas market in terms of volume (Bcf) and revenue (USD billion) from 2013 to 2019. For the purpose of this report, we have considered the supply side and not the demand side, for each region and application segment. The report analyzes value chain components in order to study value addition at each stage. The study discusses major driving and restraining factors for the shale gas market and emerging opportunities in the near future.
The major applications analyzed in this report include industrial, power generation, residential, commercial and transportation. Each application is further analyzed and forecasted on the basis of regional production including the U.S., Europe, Asia Pacific and Rest of the World from 2013 to 2019.
To Download Full Report WIth TOC: http://www.marketresearchreports.biz/sample/sample/138998.
Shale Gas Market: Technology Analysis
Horizontal Drilling
Hydraulic Fracturing
Water Usage Issue
Shale Gas Market: Application Analysis
Industrial
Power Generation
Commercial
Residential
Transportation
Shale Gas Market: Regional Analysis
North America
U.S.
Canada
Asia Pacific
China
Gas Processing Industry Outlook In Europe, 2014 - Investment Opportunities, Analysis And Forecasts Of All Active And Planned Gas Processing Plants In Europe
Browse Full Report With TOC: http://www.marketresearchreports.biz/analysis-details/gas-processing-industry-outlook-in-europe-2014-investment-opportunities-analysis-and-forecasts-of-all-active-and-planned-gas-processing-plants-in-europe
Gas Processing Industry Outlook in Europe, 2014 Investment Opportunities, Analysis and Forecasts of All Active and Planned Gas Processing Plants in Europe is a comprehensive report on gas processing industry in Europe. It provides in-depth asset details of all active and planned plants in the region. Details include operator name, start year, process/conditioning methods and processing capacity. Planned plants as announced by the companies have been included in the report. The research gives information on the market shares of major gas processing companies in Europe. The report also provides profiles of three major gas processing operators in Europe.
Scope
The report provides detailed information and analysis on gas processing plants in Europe.
The research work includes country wise processing capacities of active and planned processing plants in the region
Information on gas processing capacity of top five companies is provided
Profiles of three major companies operating in the industry are also included in the report.
To Download Full Report With TOC: http://www.marketresearchreports.biz/sample/sample/194634
Reasons to buy
The report will enhance your decision making capability in a more rapid and time sensitive manner.
The research will allow you to identify prospective investment targets through a comprehensive update and discussion on processing plants
Decide on market entry strategies in specific markets with the help of an up-to-date review of all gas processing plant capacities
Benchmark yourself against major gas processing companies by leveraging on our detailed company analysis.
About us
MarketResearchReports.biz is the most comprehensive collection of market research reports. MarketResearchReports.Biz services are specially designed to save time and money for our clients. We are a one stop solution for all your research needs, our main offerings are syndicated research reports, custom research, subscription access and consulting services. We serve all sizes and types of companies spanning across various industries.
Contact
M/s Sheela
90 Sate Street, Suite 700
Albany, NY 12207
Tel: +1-518-618-1030
USA – Canada Toll Free: 866-997-4948
Email: sales(at)marketresearchreports(dot)biz
Website: http://www.marketresearchreports.biz/