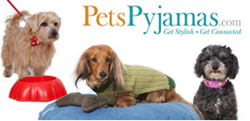 With free affiliate training and one to one support, even the most inexperienced pet owning affiliate can make an income with PetOffers.
(PRWEB) May 04, 2014
PetsPyjamas is the UK's fastest growing shopping and social network for pet owners and provides unique, fashionable and stylish products for pets and their owners.
Styling itself as "the ultimate shopping destination, social network and online information source for stylish pets and their equally stylish owners", PetsPyjamas is a unique portal bringing together a huge collection of products from hundreds of the best designers and trendiest brands.
Both pets and their owners are catered for with thousands of pet products and animal themed lifestyle items and gifts. From collars and leads to beds and accessories, the handy Search by Breed function makes finding that perfect pet product and the hottest fashion trends for pets even easier. With every purchase, Pet Points are earned which can be exchanged for a wide range of fantastic pet products.
With the Pet Neighbourhood, owners can find and share the best pet-friendly places and services in their area such as dog walking and pet sitting, while the Pet Concierge service can even assist them with booking a holiday with their pet. Owners can also create their own profile and connect with other pet owners through the unique and dynamic PetsPyjamas portal.
The PetsPyjamas affiliate offer pays a generous 10% commission rate on all sales.
Newly launched PetOffers.com is an exclusive pet network providing pet owners with the opportunity to earn money from home by promoting their pet's favourite toys, treats, food and more to other pet owners online. With free affiliate training and one to one support, even the most inexperienced pet owning affiliate can make an income with PetOffers.
PetOffers Network Manager Rachel Romero says: "The pet industry is absolutely huge, but there is a distinct lack of pet specific networks out there and we wanted to change this. We want pet owners to be able to share the love and passion that they have for their pets with other owners, and to earn something doing so. We know that there are many affiliates in other niches who unfortunately have a lack of genuine interest in the products that they promote and who are doing it purely for the money. The best affiliate marketers are those who do have a real and genuine interest in what they do. Pet owners naturally have all the ongoing passion, love, and interest needed to thrive on the opportunity to help others choose the best pet products via affiliate marketing. This is why we created PetOffers."
PetOffers aims to become the biggest Pet Affiliate Network by providing all the best pet merchants in one place, with competitive commissions and guaranteed bi-weekly payments, opening the door to anyone with a love of pets, regardless of their previous affiliate marketing experience.
Other offers include Zooplus, Monster Pet Supplies and Pet Supermarket, with more offers being added in the near future.
Join the PetOffers network today to promote PetsPyjamas.