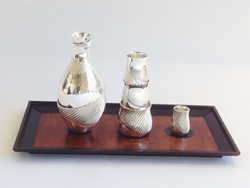 Rochester, Kent (PRWEB UK) 4 May 2014
Eight prizes were awarded to UCA students, with another two being commended, and four prizes were awarded to recent UCA graduates, with a further five commended. UCA Crafts tutor, Lynne Maclachlan, also received an award for Production Jewellery.
The annual event, recognised as the "Oscars of the industry" in Craft and Design, was hosted by ex-BBC presenter Kay Alexander and supported by a number of trade companies and trade associations.
Three final year students hailing from BA (Hons) Silversmithing Goldsmithing & Jewellery at UCA Rochester secured eight awards between them. Gemma Main received the college silver bullion grant, Kanella Vlachou won an award for her Gallery Jewellery entry Headpiece, Human Blinkers and Kyosun Jung won six awards, including a grant from the Goldsmiths' Company, the overall Junior Award for her Sake Set and The Podolsky Award for her Reversible Drinking Set and Sake Set.
Kyosun's Sake Set design was inspired by the shapes and structures on a bamboo plant, and she developed the Reversible Drinking Set idea from research into historic glass and patterns created within water. To create the pieces, Kyosun fitted together several separate layers of silver then manipulated a number of wires precisely so they could be soldered on. She then provided extra texture with pattern between each wire.
Kyosun commented: "The awards ceremony was an amazing evening and I was very surprised to win! So many people came up and congratulated me. I was encouraged to enter the competition by tutors at UCA, and I'm so pleased I did as it's been very rewarding."
Kyosun, originally from Seoul in South Korea, is passionate about continuing her work in the UK. "Coming to UCA has really changed my career path; when I first started, I wanted to be a jewellery designer but I've discovered that my ambition is to become a professional silversmith here in the UK."
This year's Goldsmiths' Craft & Design Awards had a record 769 entries, with 130 winners honoured in total. Organised by the Goldsmiths' Craft & Design Council, the awards acknowledge the achievements of craftsmen and women in areas of specialist work and expertise in chosen fields.
"We're extremely proud that UCA students had such huge successes at this year's Goldsmiths' Craft & Design Awards, especially considering the large number of entries," said Grant McCaig, Silversmithing, Goldsmithing & Jewellery lecturer at UCA. "Awards like this instill confidence in the winners but also help them raise their own profile as they embark on their careers as craft makers."
UCA winners at Goldsmiths' Craft & Design Awards 2014
Kyosun Jung, 3rd Year BA (Hons) Silversmithing, Goldsmithing & Jewellery
The Junior Award (major awards) for Sake Set
The Podolsky Award for Sake Set and Reversible Drinking Set
3D finished pieces (Craft Section), Gold Junior for Sake Set
3D finished pieces (Craft Section), Silver Junior for Reversible Drinking Set
Goldsmiths' Precious Metal Bursary award
Goldsmiths' College Silver Bullion grant
Kanella Vlachou, 3rd Year BA (Hons) Silversmithing, Goldsmithing & Jewellery
3D Finished Pieces (Design Section) Gallery Jewellery Silver Award for Headpiece, Human Blinkers
Gemma Main, 3rd Year BA (Hons) Silversmithing, Goldsmithing & Jewellery
Silver Bullion grant, awarded by The Goldsmiths' Company, specifically for students who are working with large scale Silversmithing projects
Lynne Maclachlan, UCA tutor
3D Finished Pieces (Design section), Silver for Production Jewellery
Lindy Neave, 2013 graduate
2D Fine Jewellery (Design section) Gold for Raw Pearls Special Award
Adam McLaren, 2013 graduate
3D Finished Pieces (Design section) Gold for Production Jewellery
Sanni Falkenberg, 2012 graduate
3D Finished Pieces (Design section) Silver for Gallery Jewellery
Richard Gamester, 2012 graduate
2D CAD Presentation (Design section) Gold
All alumni winners studied BA (Hons) Silversmithing, Goldsmithing & Jewellery
UCA commended entries at Goldsmiths' Craft & Design Awards 2014
Nia Davies, 2nd Year BA (Hons) Contemporary Jewellery
3D Finished Pieces (Design Section) for Gallery Jewellery
Naomi Nevill, 3rd year BA (Hons) Silversmithing, Goldsmithing & Jewellery
3D Finished Pieces (Craft Section) for Enamellers & Enamel Painters (Commended Junior)
Adam McLaren, 2013 graduate of BA (Hons) Silversmithing, Goldsmithing & Jewellery
2D CAD Presentation (Design section)
Hannah Blackwood, 2013 graduate of BA (Hons) Silversmithing, Goldsmithing & Jewellery
3D Finished Pieces (Design section) Production Jewellery
Monique Daniels, 2013 graduate of BA (Hons) Silversmithing, Goldsmithing & Jewellery
3D Finished Pieces (Design section) Production Jewellery
Sarah Hooker, 2012 graduate of BA (Hons) Applied Arts
3D Finished Pieces (Craft section) Silversmiths (Commended Junior)
Sanni Falkenberg, 2012 graduate of BA (Hons) Silversmithing, Goldsmithing & Jewellery
3D Finished Pieces (Craft section) (Commended Senior)