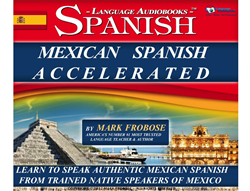 Cinco de Mayo isn't even celebrated as an official holiday in Mexico.
Champaign, IL (PRWEB) May 05, 2014
"It may come as a surprise to many, but Cinco de Mayo isn't really celebrated as an official holiday in Mexico," says language expert Mark Frobose, founder of LanguageAudiobooks.com.
Frobose, who is a favorite guest language expert who has appeared on Good Day New York, WGN Chicago, The Dennis Miller Show, and many others stated in a recent interview with Leslie Marshall that Cinco de Mayo is mostly celebrated in the United States and not Mexico. "Cinco de Mayo is really only celebrated in the town of Puebla Mexico," states the author of Conversational Latin-American Spanish.
Caramba. So what is the Cinco de Mayo holiday all about anyway?
According to Frobose, who wrote and recorded the bestselling Power Spanish Accelerated "Cinco de Mayo actually commemorates the Battle of Puebla that took place between Mexico and the French back in 1862."
So why all the confusion about Cinco de Mayo being the Independence Day of Mexico?
According to Frobose, who created and recorded the bestselling audio language program Mexican Spanish Accelerated, the real Mexican Independence Day is September 16th, which marks the beginning of Mexico's War of Independence that ended Spain's rule over Mexico.
How did Cinco de Mayo end up becoming so popular in the United States?
Mark Frobose says there are many theories. "I believe Cinco de Mayo is really a Mexican American holiday that was brought to life by Mexican immigrants and happily received by Americans who see it as an opportunity to celebrate the drinks, culture and food of Mexico."
Language Audiobooks Inc. specializes in downloadable digital language programs and CD programs like the bestselling Power French Accelerated which are extremely fast and easy to learn and that are immediately accessible to any smart phone or computer.
The Language Audiobooks' motto is "Learn Languages Everywhere™".
The company's founder and CEO Mark Frobose is an expert language teacher who created the entire language audio line for Macmillan Audio of New York including the bestselling "Behind the Wheel French" program. For over a quarter of a century, Mark has created and produced more successful audio language programs than any other living individual in the world today. His bestselling Power Spanish Accelerated is rapidly becoming the nation's favorite all-time Spanish program.
Language Audiobooks' popular Power Spanish, Power French, and Power Italian, Bite-Sized Mandarin, Conversational Latin-American Spanish, Clean French Slang and other innovative language programs are available for download now at Audible.com or in CD format at Amazon.com.