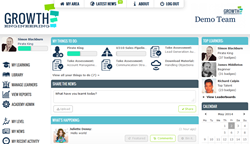 We've started rolling out Version 3.9 across our Academies and the response has been incredible – the clients and learners love it!
Windsor, UK (PRWEB UK) 3 May 2014
A Learning Management System (LMS) is software that tracks, reports on and monitors the delivery and completion of eLearning courses or online training programmes. It is a way for companies to deliver training courses that save time and money and will generate impressive returns on investment.
Growth Engineering's Academy Platform LMS – placed 2nd in Craig Weiss's 2014 worldwide list of top Learning Management Systems, also making it the best gamified LMS in the world – has just released an update.
Like Growth Engineering's previous Academy LMS updates, Version 3.9 not only improves existing features but introduces new functionality, too. Learners are now able to upload images, files and links directly to their 'Dialogue Stream', a news feed reminiscent of Facebook's own.
Admins are able to award learners multiple 'Praise' badges, which are like a pat on the back for doing a great job, and are accompanied by a running total so learners can see how many they have received.
Admins and Managers are also able to create multiple 'Level Paths', meaning that different learners/teams of learners 'level up' and gain access to various eLearning content at different times and in different orders. This creates a unique learning journey that the Manager can completely tailor to the individual or team.
Taking into account the other improvements – massive security upgrades, improved menus and a 'New content' notification feature – update 3.9 is the most user-friendly and innovative version of the Academy so far.
But Growth Engineering are not stopping there: also on the development roadmap are features like a Customer Excellence Centre, SMS notifications, a mobile App and automated reporting functionality.
Juliette Denny, Growth Engineering's Managing Director, said: "The team have been so busy lately coming up with these exciting new developments. It's been great trialling all these different ideas and finding out what works best. We've started rolling out Version 3.9 across our Academies and the response has been incredible – the clients and learners love it!"
ABOUT: Growth Engineering are the arch-enemies of dull online learning. We work towards challenging every preconceived notion of eLearning to establish a new and refreshing experience for learners. We aid and inspire learning by creating innovative learning designs and using modern technologies. Our gamified Academy Platform and game-based learning creates all-new levels of engagement and we also offer a library of Ofqual-recognised qualifications to help our learners pump rocket fuel into their professional development. In short, we want to make your learning journey as easy and rewarding as possible.
CONTACT: For more details, please contact: harry(dot)cloke(at)growthengineering(dot)co(dot)uk or phone the office on 01753 840 331.
Website address: http://www.growthengineering.co.uk