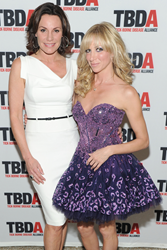 New York, NY (PRWEB) May 02, 2014
The Tick-Borne Disease Alliance (TBDA), one of the country's most authoritative voices on Lyme disease, is thrilled to announce that the organization has exceeded their fundraising goal of raising more than $1.1 million at their third annual gala, "The Great Imitator Masquerade Ball," held yesterday evening, May 1st, at Chelsea Piers in New York City. The funds raised will be used toward advancing research and the development of an accurate, accessible and reliable diagnostic tool for Lyme and other tick-borne diseases.
Pop Icon Debbie Gibson performed exclusively at the event, her first public appearance in support of Lyme disease. "I was thrilled to be a part of such a heartfelt and successful evening in support of Lyme and tick-borne disease awareness. Hopefully lending my voice from firsthand experience will help raise awareness for prevention of chronic disease," said Gibson.
Kevin Bacon, Karen Allen, Dr. Mehmet Oz, the New York Mets third baseman David Wright and 2014 Miss New York Teen USA Corrin Stellakis shared their support with select Public Service Announcements expressing their concern surrounding the alarming growth of Lyme and tick-borne diseases and the need to develop an accurate diagnostic tool.
"Real Housewives of New York City" Star Countess LuAnn de Lesseps served as the Mistress of Ceremonies honoring key supporters and patients. During the evening, David Roth, Managing Director at Blackstone and Co-Chairman of TBDA, spoke about the urgent need for raising funds for the development of a biorepository, which is the first step in developing an accurate diagnostic tool. In addition, Roth presented International Grand Prix Equestrian jump rider and World Cup finalist Judy Garofalo-Torres with the Humanitarian Award. Judy accepted the award for her advocacy work in raising awareness for both human and animal sufferers, as well as her strength and fight against this debilitating disease.
Staci Grodin, President of TBDA, presented the Courage Awards to three remarkable Lyme survivors: Jennifer Dailey, who has dedicated her career to developing a carbon nanotube-based Lyme disease sensor that identifies Lyme and tick-borne disease infections; National hero, John Donnally, who cycled across America during TBDA's "Bite Back for a Cure" campaign to raise funds and awareness; and Kelly Downing, a Lyme disease sufferer, who bravely shared her fully paralyzed near death experience on the Katie Couric show and in Washington, D.C. at TBDA's senatorial briefing with Kirsten Gillibrand's (D-NY) office staffers last year.
"The individuals who were honored at last night's gala have personally suffered due to tick-borne diseases," said Roth. Their stories underscore the urgent need for the development of a reliable and accurate diagnostic test and the importance of raising funds for a biorepository. The TBDA has dedicated itself to advancing research to eliminate the silent health epidemic posed by tick-borne diseases, and we will not rest until we achieve our goal of eradicating these horrific illnesses."
The gala was attended by more than 600 prominent guests, including notable names such as 2014 Winter Olympian Angeli VanLaanen, Jay Sharp Foundations President Norman Peck and his wife Liliane Peck, New York Estates & Trusts Attorney Herb Nass and his wife TBDA Executive Director Jodi Nass, Samantha Bass, Merrill Lynch Managing Director Charles Balducci, Project Manager MedFACS at GE Capital Corporation Robert Forster, Deutsche Bank Securities Managing Director Drew Goldman, Forefront Capital President Christopher Engel, Managing Director at Credit Suisse Securities (USA) Robert Kobre, leading U.S. Attorney and Partner at Paul Weiss Law Firm Robert Fieder, Chairman of Fried Frank's Real Estate Department Jonathan Mechanic, St. Martin's Press Executive Editor and Manager of Content Development Jennifer Weis-Monsky, AboveNet Communications CEO Stephen A. Garofalo and 2014 Miss New York Teen USA Corrin Stellakis, among others. The event also welcomed several medical professionals in the field of tick-borne diseases, including Dr. Patricia DeLaMora, Dr. Brian Fallon, Dr. Kenneth Liegner, Dr. Michael Caldwell, Dr. Adam Breiner and Dr. Rajeev S. Fernando.
Several mentionable items have been donated to TBDA to help reach their fundraising goal of more than $1.1 million, including an original 1975 Alexander Calder Gouache generously donated by Calder's daughter, Sondra Davidson, valued at approximately $70,000. In addition, Co-Creator and Executive Producer Chris Lloyd, and his wife Arleen Sorkin, of ABC's hit prime time television show "Modern Family" have graciously donated a once-in-a-lifetime opportunity for the highest bidder and a guest to have a set appearance during season six filming along with two round trip tickets provided by TBDA Co-Chairman David Roth.
During the event, TBDA announced that they will be forming a new junior board, spearheaded by Courage Award recipient John Donnally. The TBDA Junior Board will be comprised of several young individuals, all of whom have personally suffered from Lyme and tick-borne diseases. The mission of TBDA's Junior Board is to continue advocacy and provide support to future generations who suffer from Lyme and tick-borne diseases.
"TBDA is striving to change the future of treating tick-borne diseases and will be allocating the money raised from last evening's event to advance advocacy, continue further research and develop a reliable and accessible diagnostic tool," said Staci Grodin, President of TBDA. "On behalf of the Tick-Borne Disease Alliance, we are so thankful for everyone who came out last night in support of our organization."
TBDA is grateful to all those who are dedicated to helping the organization raise awareness, support research, promote advocacy and increase funds for improved diagnostics for Lyme and other tick-borne diseases. For more information, please visit our website at: http://www.TBDAlliance.org, Facebook: http://www.facebook.com/TBDAlliance, Twitter: @TBDAlliance, or call TBDA at 914-579-1000.
###
About the Tick-Borne Disease Alliance
The Tick-Borne Disease Alliance was created in 2012 from the merger of two groups: Turn the Corner Foundation and the Tick-Borne Disease Initiative. TBDA is dedicated to raising awareness, promoting advocacy and supporting initiatives to find a cure for tick-borne diseases, including Lyme. As part of its efforts, TBDA is embarking on a quest to develop a reliable diagnostic tool as a first step toward eradicating the diseases. Working with others in the tick-borne disease community nationwide, TBDA seeks to raise public awareness through education and create a unified voice for advocacy regarding the current epidemic in order to make a real difference. More information about TBDA, Lyme and tick-borne diseases, prevention and protection can be found at http://www.TBDAlliance.org.
B-roll Link: http://bit.ly/PXXqtb
Patrick McMullan Images Link: http://bit.ly/1fVBSEB
Getty Images Link: http://bit.ly/1fE2uiC
FilmMagic Images Link: http://bit.ly/Rb9wjq