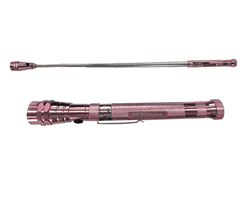 Lewisberry, PA (PRWEB) May 06, 2014
Impeltronics offers the perfect Mother's Day gift item for easy carry in purse, handbag, tool chest and car or just about anywhere a flashlight is needed. Every Mother should know that the product is also offered in Red, Blue, Silver, and Black. Extendable from a compact 6.75" to over 21" long for better reach and includes a flexible magnetic head and tail
The main functionality of this LED Flashlight Tool offers the ability for the user to find and retrieve objects in hard to reach areas. The magnets in both the head and tail end of the flashlight permit the recovery of magnetic objects.
This product is constructed of rugged aluminum and includes a stainless steel clip. The LED Flashlight Head, also made of aluminum, contains 3 bright LED's. The flashlight head is attached to approx 3" of sturdy flexible metal for multi-directional applications.
Impeltronics, a wholesale manufacturer of high quality high lumen LED Flashlights, offers everyone a "strategic advantage against the darkness." Whether you're in search and rescue, hunting and fishing or in need of light and magnetism in any application, Impeltronics invites everyone to "Light the Way."
To learn more about the product click here: http://www.impeltronics.com/products/extendable-telescoping-magnetic-flashlight/.
Media Contact
Michael Pastal
717-440-1680
mpastal(at)impeltronics(dot)com